Gigabyte to demonstrate integrated AI/Data Science Cloud at Computex 2018
Press release
Gigabyte, an industry leader in server systems and motherboards, has collaborated with local cloud and storage platform providers to showcase an integrated "AI/Data Science Cloud" at Computex 2018, demonstrating how customers can build a private cloud to own and protect their data while connecting with public cloud services, and incorporate inbuilt AI (artificial intelligence) capabilities to use big data for real-time deep learning and inference processing (AIoT).
Gigabyte Featured Hardware
Gigabyte's Network & Communication Business Unit exhibit area at Computex will showcase its six main product lines and their target applications: H-Series Density Optimized Servers for cloud computing; G-Series High Performance Computing Servers for AI; S-Series Storage Servers for big data; W-Series Workstations for content creation and software development; R-Series General Purpose Rack Servers for enterprise IT; and Racklution-OP Open Rack Standard products for hyper scaled data centers.
Product features

Product series

Target application

Computex 2018 featured product

Product features

H-Series

Density-optimized servers for hyper-converged data centers / cloud service providers

H281-PE0

2U 4 node server with dual-socket Intel Xeon Scalable CPU and 4 expansion slots per node & optional liquid cooling system

G-Series

High performance GPU servers for AI and deep learning

G481-S80

4U dual-socket Intel Xeon Scalable CPU server w/ 8 x SXM2 NVIDIA V100 / P100 GPU modules & optional liquid cooling system

S-Series

Scale-out storage for onsite, offsite software defined storage

S451-3R0

4U dual-socket Intel Xeon Scalable CPU server w/ 36 x 3.5" SSD / HDD drives and E-ATX form factor motherboard for configuration flexibility

R-Series

General purpose rack servers for enterprise IT

R281-Z92

2U dual-socket AMD EPYC 7000 series CPU server w/ 24 x 2.5" ultra-fast NVMe U.2 storage drives. Top benchmark score on SPEC.org

W-Series

Office environment workstation for media content creation, or an innovative platform for software development

W281-T91

Dual-socket Cavium ThunderX2 ARM CPU workstation tower

RACKLUTION-OP

Open rack standard compliant servers for hyper scale data centers

DO60-MR0

12OU 21" open rack standard compliant mini-rack w/ compute & storage nodes
AI/Data Science Cloud Demonstration
Gigabyte will not only showcase its hardware during Computex but also demonstrate to its customers the practical applications of its products by building a private cloud in collaboration with its partners InfinitiesSoft and Bigtera. It calls the demonstration an "AI/Data Science Cloud." It is an AI and big data analysis enabled hybrid cloud, enabled with Infinities CloudFusion cloud management platform and Bigtera VirtualStor scale-out storage, running onsite at Gigabyte's Computex booth on its H-Series, G-Series and S-Series server products. It provides remote cloud services in categories such as compute, storage, big data analytics, deep learning and AI training, and management functions. The platform has a high availability architecture that can avoid a single point of failure and can be quickly scaled out at remote locations.
Infinities CloudFusion
Gigabyte's "AI/Data Science Cloud" has been built with InfinitiesSoft CloudFusion, a comprehensive cloud management solution that can support and integrate over 30 different private and public clouds with a single platform. For this demonstration, a hybrid cloud has been built with OpenStack and Bigtera VirtualStor storage working seamlessly under the hood of CloudFusion, running on Gigabyte's H281-PE0 and H261-N80 hyper-converged servers, and connected with public cloud services. HPC application containers have also been set up and integrated into this cloud with Kubernetes and running on Gigabyte's G481-S80 GPU servers to provide remote AI training and deep learning capabilities. Since CloudFusion supports a highly elastic open API interface for developers, many other additional public or private clouds can also be connected and integrated into this platform to ensure it is future-proof.
Bigtera VirtualStor Scaler
Gigabyte's "AI/Data Science Cloud" includes a scale-out storage cluster created with Bigtera's VirtualStor Scaler storage platform and running on Gigabyte's S-Series storage servers. VirtualStor Scaler provides customers with a cost effective x86 scale-out storage solution that allows them to pay as they grow. VirtualStor Scaler's scale-out architecture provides the flexibility to specify the storage type (NAS, SAN, object storage), performance (IOPS and throughput), and efficiency all while delivering resilient and secure capacity. VirtualStor Scaler's unique advantages include offering multi-tenant storage capabilities to provide different "virtual storage" for different tenants, making storage management flexible, as well as providing functionality to consolidate legacy devices and help seamlessly migrate old data to a new storage system without downtime.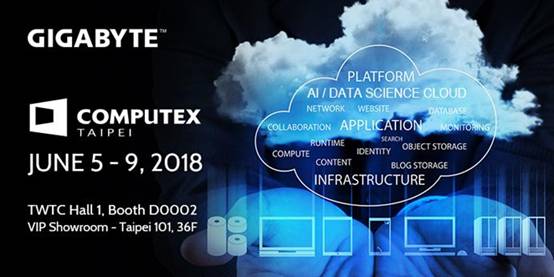 Gigabyte to demonstrate integrated "AI/Data Science Cloud"
Gigabyte's Computex booth is at Taipei World Trade Center Hall 1, D0002
For more information on Gigabyte server products, please visit: http://b2b.gigabyte.com
For more information on InfinitiesSoft CloudFusion, please visit: http://www.infinitiessoft.com
For more information on Bigtera VirtualStor Scaler, please visit: http://www.bigtera.com
DIGITIMES' editorial team was not involved in the creation or production of this content. Companies looking to contribute commercial news or press releases are welcome to contact us.