Intel CEO Brian Krzanich has announced a series of mobile platforms including the company's new low-cost system-on-chip (SoC) for phones, phablets and tablets, a global LTE solution, new personal computing experiences, and a range of customers for mobile device and network infrastructure offerings.
The announcements include the Intel Atom x3 processor series, Intel's first integrated communications SoC solution for the growing value and entry device markets, and the five-mode Intel XMM 7360 LTE Advanced solution, designed for performance and worldwide coverage. In addition, Krzanich highlighted joint efforts with Alcatel-Lucent, Ericsson and Huawei to address the demand for new telecommunications, cloud and data center services, improve network efficiencies, and accelerate the industry's move toward a software-defined infrastructure.
Krzanich also reiterated that Samsung Galaxy S6 and S6 Edge users will have the latest anti-malware solution from McAfee VirusScan Mobile technology built into and activated on their devices.
Intel introduced the Intel Atom x3 processor series (formerly codenamed SoFIA), Intel's first integrated communications platform for entry and value tablets, phablets and smartphones. Combining 64-bit multi-core Intel Atom processors together with 3G or 4G LTE connectivity, the integrated communications SoC combines the applications processor, image sensor processor, graphics, audio, connectivity and power management components in a single system chipset. This integration allows device manufacturers to deliver full-featured tablets, phablets and smartphones at affordable price points for the rapidly growing entry and value market segments.
Intel said its is bringing the benefits of integrated Intel architecture and wireless communications to customers, including the China technology ecosystem, with greater velocity. Twenty companies, including Asustek Computer and Jolla, have committed to delivering Intel Atom x3 designs.
Rounding out its mobile portfolio that scales from the entry to performance segments, Intel also introduced its first 14nm Intel Atom SoC, the Intel Atom x5 and x7 processor series (formally codenamed Cherry Trail) for next-generation tablets and small-screen 2-in-1s. Offering 64-bit support for Windows and Android, Intel Gen 8 graphics, and an option to pair with next-generation LTE Advanced connectivity, the Intel Atom x5 and x7 processor series will power a range of mainstream to premium devices.
Customers, including Acer, Asustek, Dell, Hewlett-Packard (HP), Lenovo and Toshiba, have already committed to deliver devices on this platform. The first devices are expected to be in the market in the first half of this year.
Intel also announced its third-generation five-mode, LTE Advanced Category 10 modem. The Intel XMM 7360 supports 3x carrier aggregation and download speeds up to 450Mbps. Its compact size and power efficiency enable the Intel XMM 7360 to accommodate a wide range of form factors, from smartphones and phablets to tablets and PCs. It also expands Intel's portfolio of LTE solutions, giving device manufacturers a competitive option to quickly design and launch LTE devices in various market segments and geographies. At Mobile World Congress (MWC) 2015, the company also demonstrated a pre-5G concept system that combines LTE with 802.11ad to deliver speeds of more than 1Gbps using Intel technology end-to-end.
In addition to working with Samsung to help protect Galaxy S6 and S6 Edge devices, Krzanich said Intel Security is also collaborating with LG Electronics to help secure personal data. LG Electronics will make McAfee Mobile Security from Intel Security available on the LG Watch Urbane LTE, delivering anti-theft capabilities that allow the owner to lock, locate and wipe the device, if needed. LG Android device users are already protected with McAfee Mobile Security on their devices.
Krzanich announced new customers including Brightstar, Deutsche Telekom and Prestigio for the company's True Key technology, a cross-platform application to address the pain point of passwords by using personal factors like facial identification and fingerprints to make logging in easier and safer. Deutsche Telekom will preinstall the True Key product for its customers in Europe. Prestigio will be one of the first mobile device manufacturers to launch the True Key application in Russia and across Europe, making the application available across all of its Android tablets and smartphones by the end of 2015.
Krzanich outlined how Intel is working with industry leaders to transform network infrastructure with standardized hardware and software, and helping to accelerate the industry's move toward a flexible, agile software-defined infrastructure. This enables both telco and cloud service providers to improve network efficiencies and accelerate the delivery of new services and capabilities for consumers and businesses.
Alcatel-Lucent introduced its virtual radio access network (vRAN) solution, comprised of a virtualized baseband unit that uses general purpose servers with Intel Xeon processors to enable cost savings and increased network performance. The vRAN will be in customer trials this year and commercially available in 2016.
Ericsson announced a new generation of data center platforms for the Ericsson Cloud System that enable telecom and cloud service providers to lower their total cost of ownership (TCO) and realize more flexibility and efficiency in their data centers. The company is using Intel Rack Scale architecture, together with management and orchestration software, to optimize and scale cloud resources across private, public, enterprise and telco cloud domains, enabling improved services agility. Ericsson also announced it is working with Intel Security on mobile security for 4G networks.
Huawei and Intel are collaborating to deliver robust cloud solutions that will enable telecommunications service providers to transform their data centers. The companies will develop the next generation of Huawei's FusionSphere based on Intel architecture, and will use the Data Plane Development Kit and Open vSwitch to increase network virtualization performance of FusionSphere. These solutions aim to enhance performance that is optimized to minimize TCO for cloud workloads in a scalable and secure manner.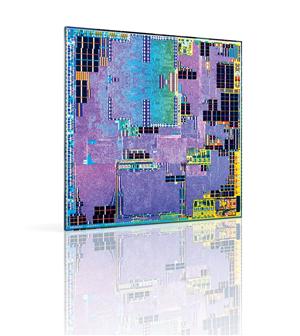 Intel Atom x3 processor
Photo: Company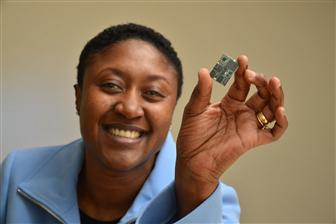 Intel XMM 7360 LTE Advanced solution
Photo: Company