Global DRAM production has been hit due to a fire at SK Hynix' China fab. Combined production capacity at DRAM producers worldwide during the fourth quarter of 2013 is set to be about 5.7% lower than the level in the prior quarter, according to an estimate by Digitimes Research.
SK Hynix' memory fab in Wuxi, Jiangsu Province, suffered a fire on September 4 prompting the company to temporarily suspend operations at the facility. On September 7, SK Hynix resumed partial operations of a production line damaged by the fire. The company's most recent updates are that the fire-damaged cleanroom and air ventilation systems have been substantially restored.
SK Hynix is expected resume normal operations with full production capacity between November and early January 2014, Digitimes Research indicated. With the upcoming restoration of SK Hynix' fire damaged plant, along with no further capacity expansions at other chipmakers, combined monthly production capacity at DRAM fabs worldwide will reduce by 60,000 12-inch equivalent wafers, or 5.7%, sequentially in the fourth quarter of 2013, Digitimes Research predicted.
Despite the supply contraction, DRAM prices are unlikely to register relative gains in the fourth quarter, Digitimes Research noted. System OEMs are expected to decelerate their pace of chip procurement prior to the slow season in the first quarter, while the world's supply of DRAM chips will return to normal levels sometime during the fourth quarter. Identifying these factors, Digitimes Research anticipates that DRAM prices for the fourth quarter will stay flat or rise only slightly on quarter.
In addition, Digitimes Research forecast that the global supply of DRAM will come to about 4.44 billion 1Gb-equivalent chips in 2013, up 22.8% from 3.61 billion units in 2012. The supply bit growth already decelerated to 31.4% in 2012, compared to 38.7% in 2011 and 56.5% in 2010.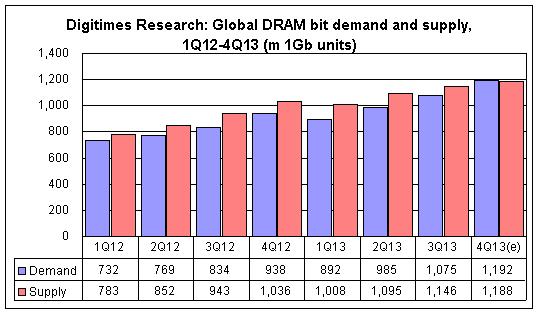 Source: Digitimes Research, October 2013