Microelectromechanical system (MEMS) applications range from automotive, industrial, military, and popular consumer electronics (CE) products such as smartphones and tablet PCs. Disruption to the supply of several components from Japan due to the recent earthquake and tsunami may create some issues for the worldwide manufacturing of MEMS devices.
But Digitimes Research believes that the impact on the overall MEMS supply chain may not be serious, as the components that may be in tight supply from Japan are not as crucial as accelerometers, gyroscopes and microphones. They bring added-value to end products, but they are not essential features.
Texas Instruments (TI) on March 29 issued a statement saying that shipments from its factory site in Miho, Japan, will not return to normal until September. The facility, which suffered substantial damage during the earthquake, produces DLP (digital light processing) chips used in embedded pico projectors.
TI indicated that the company has identified alternative manufacturing sites for about 60% of its Miho facility's production.
AKM Semiconductor, a major supplier of magnetic compasses mainly for navigation-enabled products, has seen production at its plant in Shizuoka Prefecture affected by rolling blackouts imposed by Tokyo Electric Power (TEPCO). Output is likely to reduce due to power issues.
Seiko Epson, which makes gyros for InvenSense, had to close its Sakata plant in Yamagata Prefecture after the massive earthquake and subsequent tsunami struck the northeast coast of Japan. The company has issued its latest update, revealing that partial production resumed on March 28.
InvenSense also outsources production to foundries including Taiwan Semiconductor Manufacturing Company (TSMC), Touch Micro-system Technology (TMT) and Dalsa Semiconductor. Failure of supplies from Japan should have minimal impact on its business.
In addition, major producers of MEMS accelerometers and microphones continue their normal operations as their manufacturing sites are located in areas away from the quake-hit northeastern regions or outside Japan.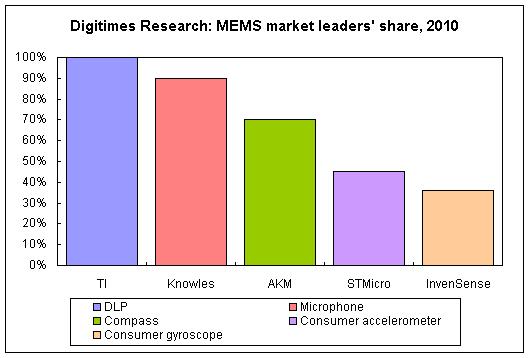 Source: Digitimes Research, April 2011