In the wake of the devastating earthquake and tsunami that hit Japan, possible shortages of notebook-use lithium batteries are a concern for the PC sector although global demand for notebooks is currently low due to seasonality.
All of Sony's lithium battery cell plants are in the disaster areas. The plants may have been affected, but if materials supply remains smooth, there should not a major problem for Sony's lithium battery cell production.
But supply of materials is indeed a major concern as Japan account for over 50% of global lithium battery materials' production value.
Hitachi Chemical, which has 50% of the anode market, runs its plants in or near the disaster zones.
Furukawa Electric, which produces electrolytic copper foil for batteries and has over 55% global market share, also runs all its plants in or near the disaster areas.
Mitsubishi Chemical, which produces electrolyte composition for batteries and has about 20-25% global market share, has about 20% of its capacity from the quake-affected areas.
Therefore, Digitimes Research believes that notebook battery supply may be affected in the next few months.
Japan-based notebook component makers' plants and status after earthquake

Maker

Major products

Plant location in Japan

Impact

Sony

Battery cell, IC card

Two plants in Fukushima

The two plants mainly produce battery cells; PC shipments may be affected

TDK

PC components

13 plants; locations included Akita, Yamagata, Iwate and Ibaraki

Shut down due to power cut policy; related supply may be affected

Furukawa

Electrolytic copper foil

Plants located in Tochigi, Japan with monthly capacity of 500 tons

All plants are located in disaster zones; 70% of the capacity caters to PC and handset segments

Mitsubishi Chem

Electrolyte

Plants located in Mie, Japan with annual capacity of 8,000 tons (including plants in the UK and US)

N/A

Electrolyte composition

Plants in Ibaraki with annual capacity of 2,000 tons

The plants are located in or near disaster zones

JX Nippon Mining & Metals

Cathode material

Plants in Ibaraki with annual capacity of 500 tons

The plants are located in or near disaster zones

Hitachi Chem

Anode material

Plants in Ibaraki with annual capacity of 8,000 tons

The plants are located in or near disaster zones
Source: Digitimes Research, March 2011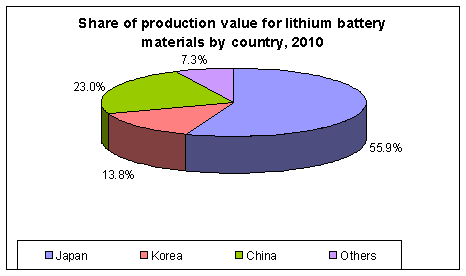 Source: Digitimes Research, March 2011