Nvidia has announced that it plans to build high-performance ARM-based CPU cores, designed to support future products ranging from personal computers and servers to workstations and supercomputers.
Known under the internal codename 'Project Denver,' this initiative features an Nvidia CPU running the ARM instruction set, which will be fully integrated on the same chip as the Nvidia GPU.
This new processor stems from a strategic partnership, also announced at the same day in which Nvidia has obtained rights to develop its own high performance CPU cores based on ARM's future processor architecture. In addition, Nvidia licensed ARM's current Cortex-A15 processor for its future-generation Tegra mobile processors.
Meanwhile, Nvidia also announced the GeForce 500M series of notebook GPUs, designed to power notebooks featuring next-generation Intel Core CPUs (Sandy Bridge).
GeForce 500M GPUs are expected to power some of the industry's performance-level notebooks in 2011. The GPUs feature strong performance in media-rich HD, 3D, Web, and gaming applications, as well as enhanced battery life, courtesy of Nvidia Optimus technology. Nvidia Optimus technology enables extra long battery life by switching on and off the GPU so that it runs only when needed. Nvidia Optimus is now designed into over 80% of 500M series notebooks across the notebook brand vendors.
For performance level, Nvidia offers GeForce GT 540M, GeForce GT 550M, and GeForce GT 555M with over four times the performance of integrated graphics and twice the DirectX 11 performance of the competition. For mainstream level, the company gives GeForce GT 520M and GeForce GT 525M offering over twice the performance of integrated graphics.
In addition, the new GPUs also features technologies such as Nvidia 3D Vision, DirectX 11, PhysX physics engine, CUDA architecture, Nvidia Verde notebook drivers and Nvidia 3DTV Play software.
Acer, Alienware, Asustek Computer, Clevo, Dell, Fujitsu, Lenovo, Medion, Micro-Star International (MSI), Samsung Electronics, Toshiba and others announced GeForce 500M-based systems at CES 2011, and represent a fraction of the over 200 design wins from notebook manufacturers for GeForce 500M GPUs.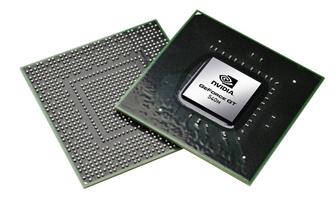 CES 2011: Nvidia GeForce 540M GPU
Photo: Company