The number of 3G users in China should reach 270.9 million in 2014 despite slower-than-expected acceptance of the new telecom service at the start of operations in 2009, according to the Digitimes Research.
Digitimes Research noted that 3G licenses were issued to China Mobile, China Telecom and China Unicom in 2008 after another round of major consolidation in the country's telecom market. China Mobile received a license for the homegrown standard of TD-SCDMA, while China Telecom and China Unicom were licensed for CDMA2000 and WCDMA, respectively.
The year 2009 could be described as a period of infrastructure construction. Not only were base stations being deployed as service provision was rolled out to customers, but product supply chains for the TD-SCDMA, CDMA and WCDMA standards were also all far from robust.
"The upshot of this was that even if consumers were tempted to try out 3G services, they were faced with an annoyingly restrictive choice of handset terminals," said Roger Huang, a senior analyst of Digitimes Research. "Moreover, despite the fact that 3G services in China had been in planning for many years before their eventual launch, applied services capable of actually utilizing the advantages of 3G involved a considerable trade off in other respects for all three carriers during this initial period."
Consequently, while the carriers made bold claims in 2009 about drawing in 30 million new 3G users during their first year of operation, this target was revised downward by the middle of the year, and the final number of 3G users by the end of 2009 was just 10.2 million, according to Digitimes Research.
But as network deployment nears completion, the range of terminals increases and carriers begin to offer tariff plan support, Digitimes Research predicts that the number of 3G users in China will reach 44.8 million by the end of 2010, a threefold increase on the 2009 figure, with China Mobile best placed to take the lion's share.
There are several factors that may accelerate the growth of China's 3G market, within which devices will play a pivotal role. A basic entry-level terminal now costs more than CNY3,000 (US$450) in 2010, let alone a phone with more advanced functions, with the result that 3G usage is limited to the top of the user base pyramid.
"For this reason, all three of China's major telecoms operators must play a more proactive role in the supply chain and appeal to more manufacturers to invest in development, so as to hasten the drop in terminal prices," said Huang, author of Digitimes Research's latest Special Report, "China 3G telecoms, suppliers and market."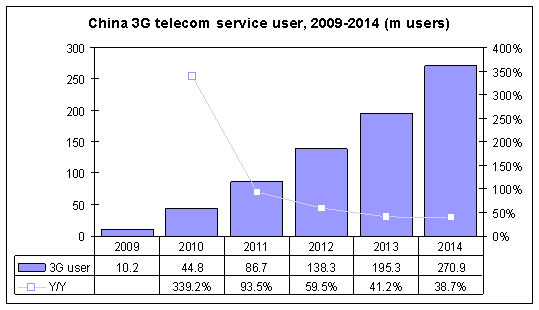 Source: Digitimes Research, November 2010