Mainstream media including Wall Street Journal and the CEO of TSMC's rival GlobalFoundries have all pointed out that having TSMC manufacture a majority of semiconductor chips is the biggest risk to the global supply chain. The claim has merit. TSMC dominates around 55% of the foundry market and generates more than 80% of the foundry industry's revenue. A TSMC production halt will seriously disrupt the global handset, server and even automotive sectors. It doesn't matter what competitors say but it matters how one builds up strength that others cannot question and challenge. Former Intel CEO Andy Grove once said, "The more successful you are, the more people want a chunk of your business and then another chunk and then another until there is nothing."
People in Taiwan call TSMC the "sacred mountain that protects the country." TSMC deserves the title judging from the important role it has been playing in recent developments in the semiconductor sector, and in geopolitics. It has taken TSMC decades to achieve such a stature.
Process technology, customer relationship and ecosystem formation are the keys to the success of a foundry house. It's easier said than done. Each of the three pillars requires tremendous efforts to build. You may find yourself caught between a rock and a hard place when attempting to build three pillars all at once. But over the years, TSMC has firmly established all three.
In regard to process technology, we can look at the capacity gap between TSMC, Samsung and Intel. Intel claims that TSMC's 7nm process only achieves the same transistor density as Intel's 10nm process. This may be true but the question is Intel has had difficulty bringing its 10nm node to commercialization and lacks major customers. And for Samsung, it may still lag TSMC 10 years from now even if it runs at full throttle.
In terms of customer base, Apple and Huawei were the top two customers of TSMC before the US hit the Chinese firm with a trade ban. Who is to take over Huawei's place in the midst of the US-China trade war? And it remains to be seen how many companies will turn to Samsung instead of TSMC. Samsung has entered into an agreement with UMC to tap UMC's production capacity. What is Samsung's plan behind this? The answers to all these questions may have something to do with corporate strategies. We may be able to figure out the answers from the companies' financial data and statements, but there are a lot of other influential factors. TSMC is at the top not without a reason.
As to ecosystem, aside from EUV equipment suppliers whose actions are at the center of industry attention, other semiconductor material and equipment providers are playing playing important roles. For firms that are based in Taiwan, which lacks natural resources, even stable electricity and water supply plays an influential role on their long-term competitiveness and customer trust. The Taiwan government should provide more assistance to help local firms compete against potential rivals that may very well be South Korean companies. South Korean president Moon Jae-in unveiled the new K-Semiconductor Strategy in May 2021, aimed to build a chipmaking hub based in Gyeonggi Province. There may things that Taiwan can learn from.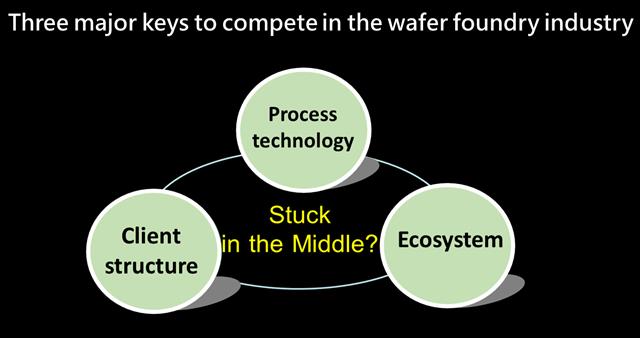 Source: Digitimes, July 2021
(Editor's note: This is the first part of a series of analysis by DIGITIMES Asia president Colley Hwang about TSMC's competitiveness and the foundry sector.)