The stethoscope may be the one instrument common to all medical professionals today in the 21st century. Its development process from invention to widespread use over the past 200 years is probably hard to imagine. The traditional stethoscope is an easily accessible tool, so too will be the future ultrasound device. Canada-based biotech startup MEDO.ai has developed a software platform based on AI and cloud computing technologies. When coupled with a handheld ultrasound device, MEDO.ai's solution can simplify the acquisition and interpretation of ultrasound images for diagnosing common and critical conditions for medical professionals, allowing them to work more efficiently and reliably.
Handheld ultrasound devices - a diversified tool to family doctors
Taiwan-based Qisda and Leltek as well as US-based Butterfly Network are among the firms looking to expand into the market of handheld ultrasound devices and providing more affordable medical care access to remote areas. The innovation that MEDO.ai brings forward is the adoption of its AI model that makes ultrasound device available to everyone - regardless of expertise. According to MEDO.ai vice president David Quail, MEDO.ai's software can be integrated with both non-portable and portable ultrasound devices. In view of the fact that selling hardware is the dominant business model in the ultrasound device market with a US$9 billion value, MEDO.ai looks to offer its software platform through subscription plans so as to create a competitive edge.
MEDO.ai's online platform obtained FDA clearance as a marketable 510(K) Class II medical device in June 2020. It plans to submit its solutions for Developmental Hip Dysplasia (DDH) screening, pre-natal health examination and lung scan for FDA clearance in the future as well.
Technological barrier and data quality are the considerations leading MEDO.ai to take a different path
Most research teams working on AI-powered medical imaging focus on computerized tomography (CT) and magnetic resonance imaging (MRI) rather than targeting ultrasound imaging. However, Quail points out that those other modalities can be costly, harmful to human body, and hard to move around, for example, to fit in the back of the pickup truck can be challenging; whereas, the ultrasound device equipped with the AI technology can be lean, agile, non-invasive and much more impactful in terms of the enhancement of general wellbeing.
The decision was also made for the reason that ultrasound imaging has a high technological barrier. Not only do ultrasound imaging innovations need to deliver better picture quality but they also need to offer complete solutions and applications, which will determine their success.
Apart from working with point of care (POC) doctors, MEDO.ai also collaborates with radiologists, to whom the system can automatically generate reports, including thyroid nodule detection and classification.
MEDO.ai looks forward to working with the medical industry ecosystem in Taiwan, its first choice as a manufacturing base
Well aware of Taiwan's status as a manufacturing heavyweight and a frontrunner in smart medical solutions, Quail hopes to find an OEM partner in Taiwan and to collaborate with the local picture archiving and communication system (PACS) industry ecosystem. He also looks forward to in-depth interactions with potential customers and sales channel partners. Founded in 2018, MEDO.ai employs a team of 20 professionals, including product managers, employees with gaming industry experience and AI engineers. Proceeding into A round funding, MEDO.ai plans to add specialists in image processing, visualization, labeling, regulatory affairs and business administration to its workforce.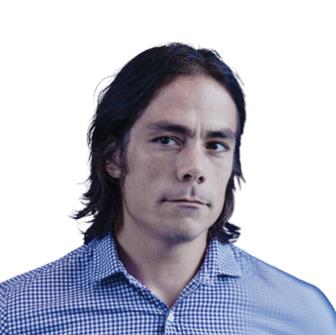 Canada-based biotech startup MEDO.ai vice president David Quail
Photo: Company