The Canadian Trade Office in Taipei is endeavoring to accelerate collaboration between Canadian startups and Taiwanese companies. Canada's AI strength and car-manufacturing prowess and Taiwan's competitiveness in ICT hardware manufacturing are complementary and have great potential to create synergies.
Jordan Reeves, executive director of the Canadian Trade Office in Taipei, explained in a recent interview by Digitimes how his office is forging ties to benefit both Canda and Taiwan.
Q: We learned that the Canadian Trade Office in Taipei has a new project to introduce Canada's startups to Taiwanese companies. Could you share the purpose of the project and explain why Taiwan has suddenly become important for Canadian companies?
A: We launched a Canadian Technology Accelerator in Taiwan at the end of 2018. This is the largest single commercial project that my ministry - Global Affairs Canada - has ever funded in Taiwan. We have accelerator programs in Silicon Valley and Boston and have had lots of success there for many years. We wanted to bring this success to Asia. We were considering four locations (of which Taiwan was one) for this accelerator program. It was part of our economic diversification strategy. We wanted to see increased trade and investment with Asia.
In recognition of Taiwan's important place in ICT value chains, and to build on a very successful foundation of science and technology collaboration between Canada's National Research Council and Taiwan's Ministry of Science and Technology over the past 24 years, we made the decision to launch an accelerator here in Taiwan.
Our focus is on several areas, such as artificial intelligence (AI) applications, Internet of Things (IoT), or AIoT. We have also looked at several sectors which have potential for new business. ICT is one, health-tech is another. Many Canadian startups went to Silicon Valley, looking for financing. Taiwan was a little bit different. Their purpose here in Taiwan is to develop prototypes, commercialize prototypes, or for some, to find partners to scale up production. Others are looking for ways to reduce their research and development costs. We have a network in Taiwan now of 200 mentors, partners, and industry contacts. We have space at Taipei Tech Arena and have a partnership with Epoch Foundation and Garage+. I can tell you that, so far in 2021, a total of 150 Canadian startups have applied to come to Taiwan through our program.
In addition, this is the year of Canadian-Taiwanese Innovators. We officially launched it in Tainan back in September 2020. It was a joint decision with Minister of Economic Affairs Wang Mei-hua. The idea was to combine Canadian software capabilities and Taiwan's hardware engineering prowess, and to forge new innovation partnerships.
Q: How many startups are included in this project? Are all the 150 companies that have expressed interest or approached you able to attend?
A: No, we have a rigorous selection process as we work with our mentors and the CTOs of many companies in Taiwan. At the end of the day, we want to maximize the chances of success for these startup firms. This way, we know right off the bat that there are going to be deep business discussions when they come to Taiwan.
Q: What are the benefits and opportunities that a collaboration between Canada and Taiwan firms can bring to both sides? Can you share some examples of companies interested in collaborating with Taiwanese companies? What results would they want to achieve?
For our broader vision, there are some really exciting opportunities right now. There will be interesting innovations in areas such as electrical vehicles (EV). Many expect value of electronics and chips in EVs will be double what it is now in traditional cars. So it's very important for Taiwanese electronics companies to establish partnerships within this emerging sector with companies from other countries. Canada is the fourth-largest automobile exporting country in the world. Ford, GM and Fiat Chrysler have recently made large investments in EVs in Canada. So, we feel that, in this particular area, there are many opportunities. We need to work more closely with Taiwanese electronics and ICT firms.
Q: In which areas or verticals can Taiwan and Canada complement each other? What can be done to foster a deeper connection between both sides?
A: We have quite a number of leading-edge tech firms in the automotive supply chain, producing all kinds of things, including sensors and imaging technology for autonomous vehicles. Immervision from Montreal, for example, with their 360 degree image-processing algorithm, can be applied to any type of camera. In seeing what we can do to bring tech firms like that to the EV and AV value chain and introduce them to Taiwanese initiatives such as Foxconn's MIH platform, for example.
I would say digital health is another very important area. Many of the current IoT-enabled health solutions definitely rely on hardware for industrial computing and so on. That's another possible area for a lot of complementary businesses. And then there are areas such as smart manufacturing. Taiwan has a long history of manufacturing, whether it's bicycles, machinery and so on, and many of those companies are looking to apply AI solutions. Canada has real strength in AI. The Toronto area, for example, has the highest concentration of AI firms in the world by some estimates, with nearly 600 AI-focused companies.
Let's take two examples to answer your questions. One is the Spartan Cube, a DNA analyzer, the size of a coffee cup. Samples are collected with a non-invasive swap, inserted in a single-use DNA cartridge. It is basically a PCR test. It was just approved by Health Canada on January 23. It is a portable testing kit, making it very easy to use. And within minutes it can produce very accurate test results for COVID-19.
It is, in fact, a collaboration between Wistron, which manufactures its shell, and Spartan Bioscience in Canada. This is a perfect example of the sort of potential we see for collaborations between Taiwanese and Canadian companies. Software or intellectual property (IP) developed in Canada coming together with the right engineering partner in Taiwan.
Wistron is also working with Canadian company B-Temia. That product has received Taiwan FDA and US FDA approval. Their product, Keeogo Exoskeleton, is a walking assistance device which is used to help people regain mobility after serious injury. It is selling quite well in Taiwan.
Taiwan has been such a great partner for Canada. We are very excited about the possibilities going forward.
Q: The trade wars and the pandemic have changed the world in a significant way. What trend have you spotted in the supply chain of Canadian companies worldwide?
A: We all know that rising labor costs in China, US-China trade frictions, the development of new technologies, such as AI, EV, autonomous vehicles, the impact of the pandemic recently, and the concern of some governments to maintain domestic production of critical goods - all of these factors are contributing to changes in global supply chains.
We see a real urgency and an opportunity for Canadian and Taiwanese firms to work together. Taiwanese companies are moving some of their current production and future production from mainland China back to Taiwan or to other markets. At the same time, the Canadian government has been encouraging Canadian companies to diversify their trade and investment toward and across the Asian region.
We have real opportunities right now we did not have before. From a policy perspective, I should say that, in Canada, our policy approach continues to promote free trade, keeping borders open for trade and investment. Canada currently has trade agreements covering two-thirds of the world's GDP. In relative terms, Canada continues to be very open towards people through our immigration policy. For example, Canada is taking between 300,000-400,000 of immigrants every year. We haven't stopped, despite the rise of protectionism in other countries in the last few years. At the same time, Canada attracts tens of thousands of foreign students. We see it as a great benefit for the country.
On the business side, we've made it simpler for Canadian companies and foreign companies to apply to bring in the engineers they need. Under the Global Skills Strategy program, the government of Canada responds in two weeks or less to applications to bring in highly skilled or specialized workers. Close to 90% of applications are approved. Canada remains an open place when it comes to investment, trade, and talent. This is an advantage for Taiwanese companies that make Canada a partner.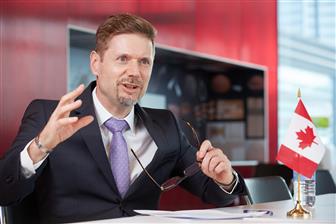 Jordan Reeves, executive director of Canadian Trade Office in Taipei
Photo: Michael Lee, Digitimes, March 2021