Taiwan Automation Intelligence and Robotics Association (TAIROA) has established a platform bringing together system integrators from different sectors in a bid to improve service quality and smart manufacturing.
The Taiwan Automation Intelligence System Integration Alliance currently has 44 members mostly engaged in system integration, including Hiwin Technologies, Delta Electronics, Marketech International, Gallant Precision Machining and Qisda, said TAIROA, adding there are also research organizations such as government-sponsored Industrial Technology Research Institute (ITRI), Institute for Information Industry (III) and Precision Machinery Research & Development Center.
Smart manufacturing needs cross-domain support, which a single system integration service provider is incapable of providing, said TAIROA, adding currently in Taiwan, most system integrators have insufficient talent and resource, and their operational scales are usually small.
Core automation components and equipment, robots and system integration are key to smart manufacturing, TAIROA chairman Szu Kou-i said.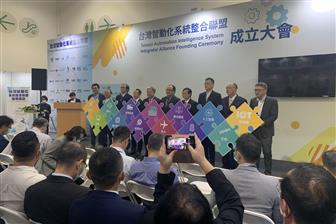 A ceremony marking the founding of Taiwan Automation Intelligence System Integration Alliance
Photo: Chloe Liao, Digitimes, August 2020