Taiwan Association of Machinery Industry (TAMI) has worked with ICT industries and academic organizations to formulate short-, mid- and long-term strategies for developing smart machinery in Taiwan, according to TAMI chairman Alex Ko.
Short-term strategies focus on equipping machines with Internet connectivity and visual displays of operating conditions; mid-term ones on establishing a machinery cloud and developing industrial sensors; and long-term ones on setting up an AI-based smart machinery knowledge bank, Ko said.
Smart machinery is a cornerstone of smart manufacturing, Ko noted. For Internet connectivity for data collection and visual displays, the government and TAMI have been promoting installation of SMBs (smart machine boxes) on old and new machines since 2018, with SMBs expected to be installed on nearly 10,000 machines cumulatively in 2022, Ko indicated.
The mid-term goals of setting up an open cloud computing platform seek to facilitate development of various software solutions for use in analysis of collected data mostly via download. Besides, in view of heavy reliance on expensive imported industrial sensors, local development and production of such sensors will be promoted to reduce cost.
For the long term, a bank of AI-based smart machinery knowledge generated from accumulated data and analysis results in the two preceding stages will be established. The smart machinery knowledge can help machine makers extend business operation from producing machines to providing system integration services.
Machinery makers are expected to play a major role in the stage of short-term strategies and academic organizations in the stage of long-term strategies, while private organizations and government-sponsored research units can function as a bridge between the former two in the stage of mid-term strategies, Ko analyzed.
With smart machines as main driving power, Taiwan's machinery production and exports in 2020 may each grow 5-10% in value on year, TAMI noted.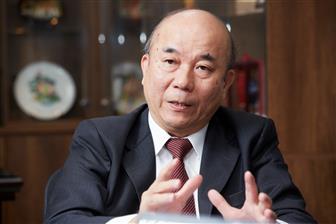 TAMI chairman Alex Ko
Photo: Michael Lee, Digitimes, March 2020