Taiwan's companies which participated in the recently concluded MWC 2019 managed to highlight an array of products, technologies, analyzing software and applications related to 5G technology that were in line with the 5G development plans showcased by the industry's major players.
The Taiwan's products were presented at Taiwan Pavilion set up by Taiwan's Industry Development Bureau (IDB) at MWC. The presentation was aimed at promoting the idea that Taiwan could serve as best partners for international players for the development of related 5G devices and applications.
Developing 5G solutions and applications in line with the development direction as advocated by the industry's leading players will help Taiwan's makers enhance their presence in the market, and their products' acceptablity among international buyers, said the sources.
Chunghwa Telecom (CHT) was highlighting its solutions for 5G smart edge data centers at the show. The solutions, incorporated with SDN (software defined networking), NFV (network function virtualization) and cloud technologies, meet the call for harmonious use of 5G technology for smart manufacturing applications and edge/cloud computing - a theme that was endorsed by Vodafone, T-Mobile, NTT DoCoMo at the fair.
A number of devices and solutions presented by Taiwan's makers were echoing 5G Cloud XR program promoted by GSMA, Social VR applications by SK Telecom and 5G Instant Game by China Mobile, calling for the expansion of integrated mixed reality (MR) applications under 5G environments.
These products included the presence of 360-degree spherical image processors by Aspeed Technology, mobile edge computing platform by Industrial Technology Research Institute (ITRI), AR smart glasses by Jorjin Technologies and somatosensory gaming solutions by Brogent Technologies.
Additionally, smart home IoT cloud systems highlighted by Everspring, image surveillance cloud platform by ThroughTek, and big data analysis solutions by Groundhog Technologies also attracted high attention from visiting telecom and system operators as these solutions are needed for the growing IoT applications.
The displays of backhaul routers for mobile base stations by Edgecore Networks, front- and back-end computing servers for 5G/AIot networks by Gigabyte Technology and Cloud-RAN and small cells by Alpha Networks inside the Taiwan Pavilion, as well as other 5G network equipment and solutions displayed by other Taiwan makers outside the pavilion including Gemtek Technology, Sercomm, Askey Computer and Unizyx Holding were a tantamount that Taiwan boasts the ability to offer a comprehensive range of solutions for the deployment of 5G networks, the sources commented.
A total of 13 Taiwan's IT companies were displaying their products at the Taiwan Pavilion at MWC 2019 compared to 11 companies participated in 2018 and six in 2017. This indicates that the promotion of the Taiwan-theme pavilion has begun to gain recognition from Taiwan's IT industry.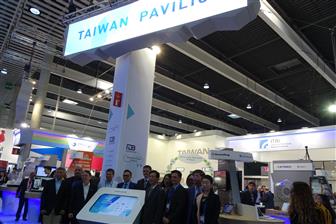 Taiwan Pavilion at MWC 2019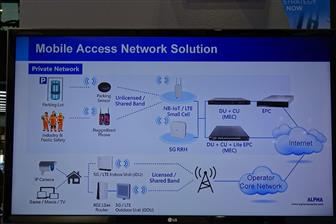 5G solutions presented by Alpha Networks at MWC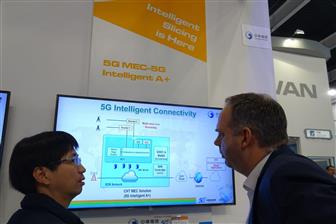 CHT domonstrating its smart edge datacenter solutions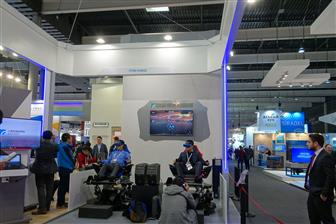 3D and somatosensory equipment jointly demonstrated by ITRI and Brogent Technologies
Photo: Roger Huang, Digitimes, March 2019