With 5G infrastructure aggressively being deployed around the world, global industries are optimistic about the changes to business models that 5G commercial operation will enable. However, based on current market observations, most smart 5G applications are still in the development stage and vendors are only testing waters with their new service models. Nonetheless, digital imaging is a continuously growing market with many creative applications and market opportunities. Thanks to the advancement of Internet of Things (IoT) and artificial intelligence (AI) developments, the seamless connection between edge computing and cloud service platforms has given rise to eye-opening solutions centered around data-driven approaches.
Recently celebrating its tenth anniversary in July 2019, ThroughTek (TUTK), a well-known for providing platform as a service (PaaS) solutions in security industries across the Taiwan Strait, successfully connected 66 million smart devices with video streaming capabilities on its Kalay Platform. TUTK's service scope has expanded beyond providing P2P software technology in the early days to enabling integrated cloud services. Prior to the opening day of the world's largest consumer electronics show, CES 2020, TUTK CEO Patrick Kuo and vice president of product development center Scott Yang talked about the company's first-time attendance at CES in an interview. TUTK is fully prepared to present the upgraded Kalay Platform 2.0 and its entirely new cloud service offerings. It has even code-named the operation to introduce Kalay Platform 2.0 to the North American market as "3S."
According to Kuo, TUTK's cloud service earnings exceeded 20% of the company's total revenue, marking an important milestone on TUTK's road to business transformation. Starting out as a software provider dedicated to connecting devices for hardware manufacturers and solution providers, TUTK has expanded its portfolio of cloud service application products to include cloud video recording, user account and device management, push notification, online firmware update, billing service, as well as backend operation and management platform. In addition, it has a diverse range of value-added services, such as making its AI API available to customers. TUTK's cloud service platform has transcended to a whole new level this year due to the outstanding achievement of its R&D team for implementing a new decentralized architecture for Kalay Platform 2.0.
Increasing usability with smart user-defined actions
TUTK's operation to introduce Kalay Platform 2.0 to the market is code-named "3S" - Smart, Security and Subscription. This is also a manifestation of TUTK's take on consumer market demands for IoT products and applications. Elaborating on "3S", Kuo noted in terms of smart implementations, Kalay Platform 2.0 can integrate functions of different types of end devices across communication protocols and operating systems. It can also serve as a bridge or interface connecting edge AI and cloud AI. For example, IP cameras integrated with Kalay VSaaS and AI image recognition form an event analytics platform that performs image collection, recognition, tagging and event triggering. It further allows users to define the actions that they want their devices or home appliances to perform. Take the IP camera as an example, the images taken by the camera are processed and certain user-defined images are recognized. For instance, the motion of an elderly family member falling is recognized and the event will trigger alert messages to be immediately sent to family members' mobile phones.
Aside from offering a wide range of modularized functions, Kalay Platform 2.0 can also operate with third-party services such as AI-based image recognition tools and IFTTT applications. It can also integrate different voice assistants, functions of various hardware devices, and sensors for a variety of application scenarios. Regardless of their brands or communication protocols, the devices can receive and execute user-defined commands efficiently, so that users can conveniently enjoy security, convenience, and flexibility that smart solutions can bring to their lives.
A decentralized architecture to ensure enhanced information security
As to security - the second S in "3S," Kalay Platform 2.0 raises the IoT security protection mechanisms to a whole new level. The implementation of the decentralized architecture is a major breakthrough for TUTK this year. It considerably simplifies the matching and communication process between devices, enabling optimal flexibility for M2M interaction and thereby maximizing the benefits. According to Yang, to address the vulnerabilities of UIDs being reproduced or compromised, TUTK converted to a new two-phased UID design to enhance security. Multi-tiered authentication and end-to-end encryption for dynamic key matching are implemented for the communication across servers, end devices, and users. This allows data transmission between end devices and end users to be secure and safeguarded. With a decentralized design, the risk of data tampering or breach can effectively be reduced, while improving online privacy and protection.
Cloud subscription services offer opportunities for explosive growth in the North American market
The final S in "3S" represents cloud subscription service. In observing the rise of Internet and social media communities spurring the growth of a subscription-based economy, TUTK believes it will become a revenue stream for cloud service operators. Increasingly, companies are eyeing monthly subscription-based business models to generate a long-term and steady revenue. And, it has the potential to replace traditional one-time sale of hardware products. The outlook of subscription service models is very promising, and TUTK expects its cloud services to be an important growth driver for the company's revenue. Kuo revealed that the growth rate in the North American market reached an unprecedented record 200% this year. Wyze Labs, a startup located in Seattle and a TUTK customer, generated 3 million units in product sales within the last 18 months. Wyze Labs is also looking to leverage Kalay Platform 2.0's cloud functions to tap into opportunities arising from subscription-based services.
Furthermore, according to Yang, TUTK offers JSON API or original app program templates to help customers build cloud subscription services. On the other hand, for brand customers that place emphasis on time-to-market, TUTK provides fee-based app development services to accommodate different customer needs in order to help them quickly expand footprint in the market.
TUTK's ability to provide services that satisfy installers' demand is another major force driving its growth in the North American market. Yang pointed out that TUTK's Kalay Developer Console (KDC) is built on the DevOps management interface that is widely used in the industry. Offering significant improvements to the automation and online collaboration process, KDC helps customers create better service flows and products. The Kalay Platform provides integration services that are efficient and transparent, enabling quick installation and deployment of a large quantity of devices. In addition, TUTK offers customizable features that include billing services and instant message notifications, making it easy for large-scale installers to operate their businesses and services, while differentiating from competition.
Hausetopia, one app integrating all white-box devices
TUTK has created Hausetopia, a new app for integrating all types of networking devices operating on different communication protocols. The name combines the German words Hause (house) and Utopia. The purpose is to allow consumers to be able to identify products that use TUTK's cloud services and technologies as white-box devices continue to flood into the China market. Products that use the Hausetopia app interface for interconnection and control of devices will be marked accordingly on the packaging and user guides. Consumers will know that the products they purchase, regardless of the brand, are built on TUTK's Kalay Platform and that communication between products of different brands is enabled by one app – Hausetopia. More importantly, TUTK's customer base largely comprises suppliers of IoT hardware devices or cloud services. They offer a wide variety of products, encompassing IP cameras, home gateway, sensor devices, home appliances, and others. They will be able to benefit from the device community conjoined by TUTK, which will allow for more convenient and user-friendly IoT technologies. The Kalay Platform 2.0's new communication technology enables the last stretch for everything to go online and will break brand barriers, allowing quick integration and connection of various IoT devices.
TUTK's debut at CES next month will be grand and highly anticipated. The Taiwan-based IoT cloud service platform provider expects to shine on the global stage.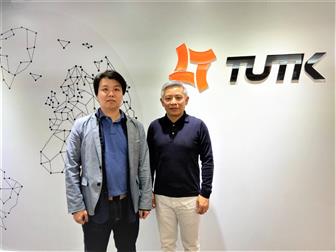 ThroughTek CEO Patrick Kuo and vice president of product development center Scott Yang will lead the ThroughTek team at CES 2020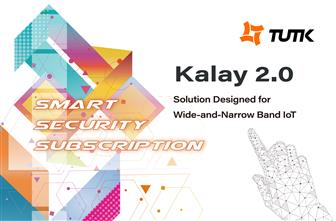 Fully prepared to take on new challenges in 2020, ThroughTek introduces the upgraded Kalay Platform with operation "3S"
DIGITIMES' editorial team was not involved in the creation or production of this content. Companies looking to contribute commercial news or press releases are welcome to contact us.