The Southern Taiwan Science Park Bureau has teamed up with IBM Taiwan and StarFab Accelerator to better carry out its TAIRA (Taiwan AI x Robotics) program to accelerate the growth of member startups by providing them with cloud and other resources.
TAIRA is an accelerator program designed to fast track startups working on AI and robotics solutions. TAIRA seeks to support startups through equity-free funding, product development resources and early engagement with potential enterprise clients.
Under the cooperation, IBM Taiwan will allow startup teams in TAIRA to join its Global Entrepreneur Program (GEP), providing the top-rated applicant with cloud resources valued at US$120,000, compared to US$36,000 for the second place and US$24,000 for the third.
Lin Wei-cheng, director general of the STSP Bureau, said that IBM Taiwan and StarFab have jointly sowed the first seeding in the bureau's efforts to incorporate international enterprise resources into the TAIRA program. He hoped that more similar international resources can be injected into the STSP to accelerate the development of startups operating there.
Mars Hsu, executive of cloud business at IBM Taiwan, said that besides providing cloud resources, IBM will also help Taiwan startups engage in cooperation and exchanges with other startups in the world, and carry out seamless integration of their solutions and advanced IBM technologies to develop more innovations and generate greater values.
StarFab CEO Amanda Liu indicated that her company will do its best to help accelerate the development of startups in Taiwan.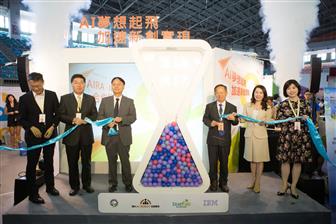 STSP Bureau, IBM Taiwan and StarFab team up to bolster startups in southern Taiwan.
Photo: Ambrose Huang, Digitimes, October 2018