IoT applications set to flourish in 2019-2020, says Advantech chairman
Vincent Mao, Taipei; Willis Ke, DIGITIMES
The IoT (Internet of Things) applications will see explosive development in 2019-2020 with total NB (narrow band)-IoT solutions to be fully incorporated into the smart city field, but no enterprises can fight single-handedly in the era, according to KC Liu, chairman of Advantech.
Liu said that demand for IoT applications from customers, especially in China, has grown significantly since the beginning of 2018. This, coupled with full deployments by China's three telecom operators and web giants Alibaba, Tencent and Baidu as well as strong government policy support, has added drastic growth momentum to IoT applications in the country.
Liu said Advantech is focusing on the development of SRP (solution ready packages) for IoT applications and on SI (system integration) seeking to expand the market through collaborating with cross-industry players.
He disclosed that Advantech may cooperate first with China's Baidu in promoting IoT solutions, and may also collaborate with Alibaba in the future.
As a provider of cross-industry platforms, Advantech has been actively carrying out labor divisions with telecom operators, large software firms and small and medium-sized enterprises to help traditional industries' transformations and upgrades.
Faced with demand for professional and multiple applications from the sectors of smart city, smart healthcare, smart retail, smart transportation, smart logistics and smart energy, Advantech has developed WISE-PaaS platforms to serve customer needs, according to Liu.
Liu said only a few firms operating well in the Internet+ era can successfully transition to the IoT era through business transformation.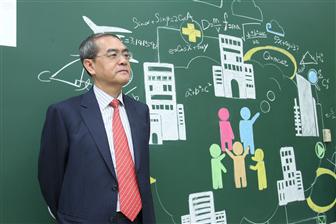 Advantech chairman KC Liu
Photo: Shihmin Fu, Digitimes, September 2018