Successfully starting his own business twice, Gwong Lee, managing director, Translink Capital, sold his second firm for a high price 15 months after its establishment and he was named one of Silicon Valley's top-10 most important persons of the year. Afterwards, Foxconn chairman Terry Gou invited Lee to serve as chairman of CyberTAN, a Foxconn subsidiary, and guide Foxconn Technology Group's investment deals. Drawing on his entrepreneurship experiences, Lee offers some thoughts and advice for Taiwan startups.
Without a market, even a strong startup team is useless
Translink Capital mainly invests in US-based startups during Series A and Series B rounds and helps them build partnerships with leading Asian high-tech firms. Lee pointed out as many Taiwan-based firms are looking to transform themselves in hopes of spurring further growth and Silicon Valley has a host of startups that can inspire large enterprises with ideas for new business models, they can join forces. Translink Capital currently works with Taiwan-based firms including Foxconn, Quanta, Inventec and UMC.
When evaluating whether a startup is worth investing in, Lee mainly considers three aspects: the market, the product and the leader. Among them, the market is the most critical factor. Without a market, even a strong startup team has no use. In 1987, Lee started his first business, Digicom Systems, specializing in point-to-point communication by integrating digital signal processing chips in products to replace traditional devices. Digicom Systems was an instant hit and got OEM orders from AT&T in its second year of operation. In the five years from 1988 to 1993, AT&T remained the biggest customer contributing to more than half of Digicom Systems' revenue. Still new at entrepreneurship at that time, Lee thought technology was the key to his success and customers would automatically come to him if he had the technology they were after. Paying no attention to market needs, he made no customer visit at all in six years. In retrospect, Lee regrets not making efforts to strength customer relationships and understand market needs as well as customer plans. If he had done so, Digicom Systems might have had more opportunities. Fortunately, Digicom Systems was acquired by Singapore-based Creative Labs in 1994, which turned out to be a happy ending.
When starting his second business, TransMedia, in 1997, Lee was well aware of customer needs and TransMedia could develop products in as short as 15 months and began proof-of-concept validation with customers. Cisco Systems then acquired TransMedia for US$500 million. 3Com and Nortel were among those that also bid for TransMedia at the time. Lee suggests that startups select buyers not just based on the offer price but should also consider if they share a common business philosophy and comparable professional capabilities, which will sustain their future development together or else there may be compatibility problems after the merger.
Whether a startup has a right product is the second consideration in investment decision-making. A startup team must find the right people to make the product or find a mentor to provide guidance. Many startups can design a good product but don't know the first thing about hardware or system so they can only outsource product manufacturing. However, it can be a challenge to manage OEM and control product quality, indicated Lee.
The third factor is the team and the leader. Lee places importance on three leadership qualities: pioneering spirit, persistence and focus. In particular, he said many entrepreneurs are full of ideas and want to do a lot of things. Without focus, they have too much on their plate and end up achieving nothing due to limited resources. They put out too many products but have no one in charge of promoting them. The results are certainly unsatisfactory. As such, it is important to have focus.
Applications combining hardware, software and cloud are suitable for Taiwan startups
The investment deals that Lee is currently overseeing at Translink Capital center on Industry 4.0, IoT, AI, machine learning, AR/VR and industrial applications. In general, he favors startups that already have customers. A startup pitch with only a few presentation slides or prototypes will unlikely secure any funding.
Half of the firms that Translink Capital has a stake in also receive funding from corporate venture capital of Translink Capital's partners. They provide different perspectives that complement the investment deals made by corporate venture capital of Translink Capital's partners, which may sometimes be too focused on certain areas to have an overview.
With respect to the startup ideas for Taiwan, Lee suggests the combination of hardware, software and cloud. The omnipresent Internet has been around for two decades but Taiwan has yet to foster any outstanding Internet companies with the only exception being PChome. Most software engineers work for the semiconductor industry, resulting in a poorly developed software industry. As such, now for active startup developments, Lee advises Taiwan startups make efforts toward applications combining hardware, software and cloud.
It is never easy to start a business. One of Lee's friends has extensive experiences in funding high-tech firms. The friend has invested in HP, Intel and Apple and received handsome return but has also engaged in 50 angel investment deals that all failed. Although Lee rarely does angel investing, he will join the game in Pre-A round funding if he sees a team with very good potential. Whether an angel investment deal can succeed hinges on the angel investor's experience and connection. Even if the angel investor is not funding a business in his own field of expertise, his business know-how, such as management of cash flow, logistics, product R&D and talent recruitment, can still apply to different industries.
As a final piece of advice, Lee emphasizes that startups must have a clear go-to-market strategy, including sales channels, marketing and pricing plans, as well as how to build the visibility of the startup in the marketplace. Only one out of 10 startups receiving angel investment gets to proceed to Series A funding. Whether you end up being the one or among the remaining nine depends on how well prepared you are.
(Editor's note: This is part of a series of interviews focusing on the problems and opportunities that Taiwan-based startups face. The interviewees are venture capitalists and angel investors from Silicon Valley and Taiwan.)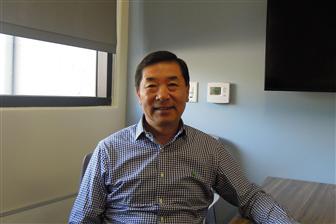 Gwong Lee, managing director of Translink Capital
Photo: Joseph Tsai, Digitimes, May 2018