Power supply maker and industrial automation solution developer Delta Electronics showcased a 3D machine vision-based inspection solution matched with CPS (cyber-physical system) for use in glue dispensing and precise soldering in PCB production, an example of application of CPS to smart manufacturing solutions, at Taipei International Industrial Automation Exhibition 2018 during August 1-4.
Conventionally, changes in product specification are followed by costly production line adjustments. CPS enables software programming-based simulation of operating parameters such as routes and space of robotic arms' motion, length of conveyors and rotating speeds of motors in virtual environment. Then, parameters after simulation are transferred to controllers as reference for designing and structuring production lines, reducing time and cost for machine adjustments.
Such simulation in virtual environment is not necessary to reach 100% or very high precision, for robots matched with 3D machine vision can automatically make up for errors between simulation and actual positioning, said general manager Andy Liu for the company's Industrial Automation Business Group.
Ideal smart manufacturing is that many front-end procedures in manufacturing can be undertaken based on CPS at laboratories instead of being executed at production lines, Liu indicated.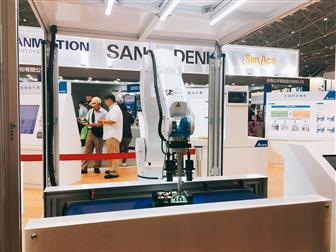 Delta Electronics' booth at Taipei International Industrial Automation Exhibition 2018
Photo: Chloe Liao, Digitimes, August 2018