AI to be new direction for storage industry: Q&A with Pure Storage VP Robert Lee
Aaron Lee, Taipei; Joseph Tsai, DIGITIMES
Pure Storage has worked with Nvidia and Arista Networks to jointly create AI Ready Infrastructure (AIRI) that is able to assist its clients with demand for AI applications.The company's FlashBlade series servers will be the initial product line to feature the infrastructure.
Digitimes recently talked to Robert Lee, Pure Storage's VP and chief architect, about the new product line and the AI business opportunity.
Q: Why has the FlashBlade series been chosen for AIRI?
A: When the company began preparing and designing the FlashBlade series in 2013, the plan was to create a high performance server product line, targeting HPC clients with data processing demand. After its release, we have discovered that many of our clients have used the products for processing AI applications.
Since AI requires good algorithm and a large amount of analyzable data in order to create values, storing, categorizing and computing the enormous data collected are some of the major challenges of the servers and the FlashBlade series' high-end specifications are able to satisfy demand for all different types of data storage, computing need and simplified categorization processes.
For example, we previously worked with an autonomous driving vehicle developerusing our FlashBlade server to collect video data from the vehicles' camcorders. For each test, the camcorders could produce up to 5TB of data, which would usually take a long time to conduct back-end processes. But with our system, the developer was able to save a lot of time over video conversion, image capturing and image categorization.
When the system captures images from videos, it still requires a person to manually tell it what the images are and the process usually takes a very long time. But with a suitable storage system, the process can be shortened dramatically.
Q: Why has the FlashBlade series adopted a blade server form factor instead of the traditional rack server one?
A: From the users' perspective, the rack server form factor design usually creates many limitations and the blade server design is able to provide better and simpler usages. The blade server design also has many advantages including better expandability and plug-and-play.
The system also has well-designed software, allowing the system to directly communicate with the flash drives in order to conduct more parallel computing at once.
When we began designing the FlashBlade series servers 4-5 years ago, we already started trying out NVMe-based SSDs as part of the hardware configurations. By then, NVMe was not yet a mature technology and though our competitors were able to adopt NVMe SSDs into their products, their servers were still incapable of achieving results similar to those of the FlashBlade series due to the limitations in software.
Our software is able to resolve the bottleneck of NVMe's data transmission, allowing a smooth flow of data passage.
Q: What functions can the FlashBlade series provide over the data categorization?
A: We are currently working with our partners to help our clients concerning functionality. With the large amounts of raw data collected, our clients are not able to begin conducting analysis until after it has been labeled, indexed and classified.
We have seen enormous amounts of data from clients and are working with our partners to develop technologies to categorize them, but the technologies so far have not yet reached a level that can be revealed.
Although the technologies for categorizing and analyzing raw data are still not ready, storing raw data are still necessary as the data stored long time ago may still need to be reviewed after related technologies are available.
We have been looking to develop technologies to help merge and store raw data in a format that takes less storage space, so our clients will be able to use the cold data for their future needs.
Q: What does Pure Storage think of edge computing?
A: Edge computing is a big business opportunity for us as the related devices are the one collecting data via IoT sensors and processing analysis tasks. Since storage will also be one of the edge computing devices' main functions, our solutions are able to assist our clients with needs for edge computing applications over deployment and management.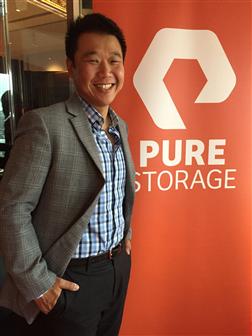 Pure Storage VP and chief architect Robert Lee
Photo: Aaron Lee, Digitimes, April 2018