Mobile devices, such as smartphones and tablets, will spur an almost 30% increase in overall DRAM bit demand in 2013, according to Digitimes Research.
Desktop PCs and notebooks remain the dominant consumer of DRAM, but growth in bit demand for the segment will slow to 2.9% in 2013 as compared to a larger 7.3% increase in 2012, said Nobunaga Chai, analyst for semiconductors at Digitimes Research. In contrast, DRAM demand for non-PC applications particularly smartphones and tablets will enjoy significant growth.
Mobile DRAM demand is forecast to register a 72.9% jump in 2013, buoyed by the expanding markets for smartphones and tablets, Chai indicated. Chai also observed the increasing usage of mobile DRAM in these hot products.
Mobile DRAM demand for smartphones will climb to 774 million gigabits (Gb) in 2013, up 83% from the 2012 level, Chai pointed out. Meanwhile, demand coming from the tablet sector is set to rise 73.1% during the same period, Chai said.
Average DRAM content in smartphones will expand to 0.9-gigabyte (GB) in 2013 from 0.7GB in 2012, while that in tablets is set to reach 1.3GB in 2013 compared to 1.1GB in 2012, Chai predicted.
Chai projected that the overall DRAM market, which consists of mobile DRAM and server-use DRAM products, will consume 3.733 billion Gb in 2013, a 29.7% increase. The niche DRAM segment - the category that mobile DRAM belongs to - will account for 40% of the total in 2013 compared to 33% in 2012, according to Chai.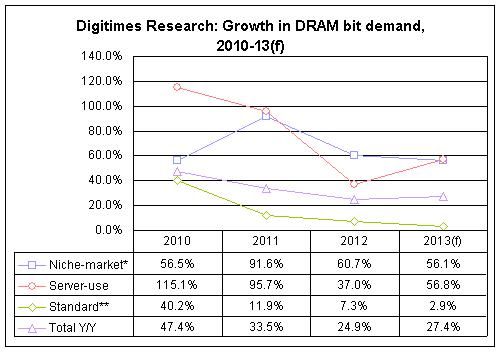 *Consisting of mobile DRAM, specialty DRAM and graphics RAM
**Consisting of DRAM parts for desktops, notebooks and netbooks
Source: Digitimes Research, March 2013