Demand for e-book readers remained strong in first-quarter 2011, with global shipments soaring 236% on year to 4.8 million units. Digitimes Research believes global e-book reader shipments will reach 27 million units in 2011.
Among the brand-name vendors, Amazon will continue to be the market leader with an 60% share of global shipments in 2011. Barnes & Noble may hold on to second place, but its gap with third-place Sony will narrow.
North America will remain the biggest market for e-book readers, accounting for 72% of global shipments, but growth in the area is slowing down. E-book reader vendors are now aggresively expanding their presence in the Europe market, which is registering higher-than-average growths.
Monotone e-book readers will remain the mainstream in the next three years, during which no breakthrough in developing color devices can be expected. Global e-book reader shipments will reach 63 million units by2014.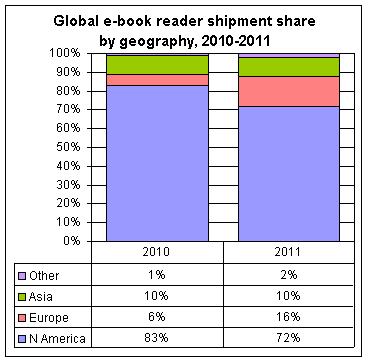 Source: Digitimes Research, April 2011