After three consecutive quarters of unsatisfactory performance, Taiwan's notebook shipments in the second quarter of 2011 are expected to remain weak and as shortages of components such as ICs for optical drives and hard drives, caused by Japan's earthquake on March 11, will start impacting the notebook supply chain in the quarter, despite Taiwan's notebook shipments will still see a sequential growth of 6.1%, they will see a drop of 2.1% compared to the volume a year ago, while global notebook shipments to see 8.8% growth on quarter and only 3.7% on year, according to Digitimes Research senior analyst Joanne Chien.
Global notebook shipments in the first half of 2011 are expected to reach only 98.02 million units and with the second-half currently still offering no big surprises, while netbook shipments are dropping, Chien believes that global notebook shipments in 2011 may grow only 5.8% on year to 210 million units, marking the first time for the notebook market to see annual growth that is not a double-digit percentage and also lower than the 20.1% in 2010.
As for the netbook segment, Acer's strategy of adjusting its orders for the second quarter will result in Taiwan notebook makers' total netbook shipments to drop to around 4.5 million units in the quarter. Although Taiwan's traditional notebook shipments will still achieve a growth of 9% sequentially, on-year growth will only reach 1.4%, a lot lower than 50% in the same quarter a year ago.
For the second quarter of 2011, Apple, Asustek Computer and Acer will be the top-three players having increased notebook order volumes to their partners, with Apple mainly benefiting from its newly launched MacBook Pro notebooks, while Asustek and Acer both had smooth inventory digestion.
As for notebook makers, Inventec, which used to be the fourth-largest notebook maker worldwide, will drop to number six in the second quarter with Foxconn Electronics (Hon Hai Precision Industry) to take fourth place with shipments of more than four million units in the quarter. Inventec's shipment volume in the second quarter will also have a gap of about 1.2 million units with the fifth largest, Pegatron Technology, Chien added.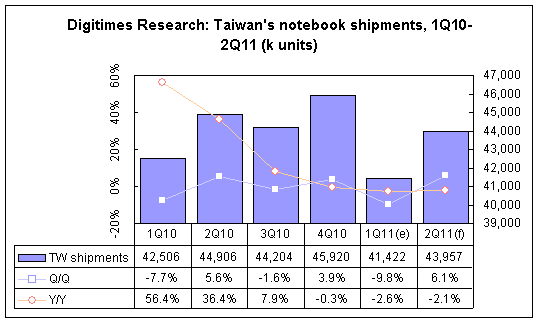 Source: Digitimes Research, compiled by Digitimes, April 2011