Three major Japan-based suppliers of semiconductor manufacturing equipment have suspended operations at several of their plants in the earthquake-ravaged areas with no timeframe for when they will re-open. Lithography system provider Nikon suffered the most as its main factory sites are located in Miyagi and Tochigi prefectures, areas particularly affected by the disaster.
Nikon revealed that its group companies, including Sendai Nikon (Natori, Miyagi Pref.), Miyagi Nikon Precision (Zao-machi, Katta-gun, Miyagi Pref), Tochigi Nikon (Otawara, Tochigi Pref), Tochigi Nikon Precision (Otawara, Tochigi Pref), and other subsidiaries as well as its plants suffered damage to part of the equipment and buildings. According to the company's latest update, operations there remain closed.
Nikon ranks only after ASML in the worldwide lithography equipment market. Nikon has estimated that for the fiscal year through March 2011, shipments of its lithography tools would return to the level of 78 units shipped two years ago. Shipments slid to only 49 units in the company's fiscal 2010.
Also among the leading suppliers of semiconductor lithography, Canon disclosed that the earthquake had a significant impact on its operating sites in the prefectures of Ibaraki and Tochigi, and five Canon Group companies located in Aomori, Fukushima and Ibaraki. The facilities have been shut down with no concrete schedule determined yet for when production may resume. Canon said it would consider shifting production to other fabs not damaged by the earthquake if necessary.
Canon's chip-equipment unit is mainly located in Kanagawa Prefecture, and therefore has seen limited impact from the recent crisis. However, fab-tool manufacturing at the factory sites in Ibaraki and Tochigi has been disrupted.
Canon's lithography-tool shipments are projected to top 47 units in the company's fiscal 2011, compared to the 29 units shipped a year ago.
Nikon and Canon currently hold a combined 44% share of the global lithography equipment market, with major clients including foundry Taiwan Semiconductor Manufacturing Company (TSMC).
Tokyo Electron (TEL), which ranks Japan's largest semiconductor production equipment supplier and the second-largest vendor worldwide, said it is still assessing the damage. The company indicated that three facilities around the affected area - Tokyo Electron Tohoku for thermal processing systems (Oshu City), Tokyo Electron AT for etch systems (Matsushima City) and Tokyo Electron Technology Development Institute (Sendai City) - have suspended operations.
Operations at Tokyo Electron Tohoku are expected to resume in two weeks, and operations at Tokyo Electron AT may restore in two to four weeks. Tokyo Electron Technology Development Institute is set to re-open in one week, once the water supply is restored. All of these dates are dependent upon infrastructure and supplier status. In the meantime, TEL noted that it has moved to expand production areas for etch systems in the unaffected Yamanashi factory.
TEL's main customers include TSMC and panel supplier TCL.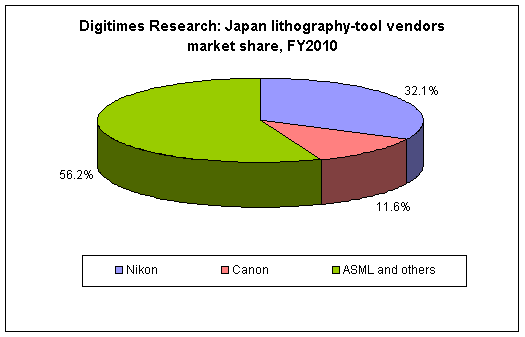 Source: Digitimes Research, March 2011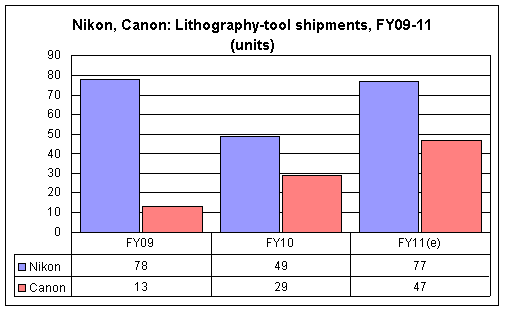 Source: Digitimes Research, March 2011