LG Display unveils ultra-thin LCD TV panel measuring 2.6mm
Press release, December 21; Yvonne Yu, DIGITIMES
LG Display (LGD) has announced that it has developed what it claims to the world's thinnest LCD TV panel measuring 2.6mm. The development of extremely slim LCD panel was possible by applying the company's accumulated "slimming" technologies including the use of an ultra-slim, edge-lit LED backlight system and proprietary optical film technology, the company said.
The 42-inch panel weighs less than 4 kilograms - making it ideal for wall mounted TVs, LGD said. The new product offers 120Hz refresh rate technology with full HD (1920x1080) resolution.
In May, LG Display unveiled 42- and 47-inch LCD TV panels measuring 5.9mm - the world's thinnest panels at the time, the company said.
LG Display said it will showcase the product and its display technologies in a private room at the Bellagio Hotel during the upcoming Consumer Electronics Show (CES) 2010 in Las Vegas.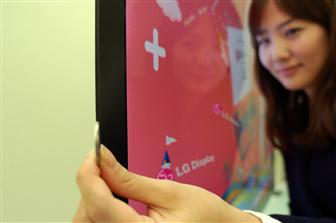 LG Display's 2.6mm thick 42-inch full HD LCD TV panel
Photo: Company