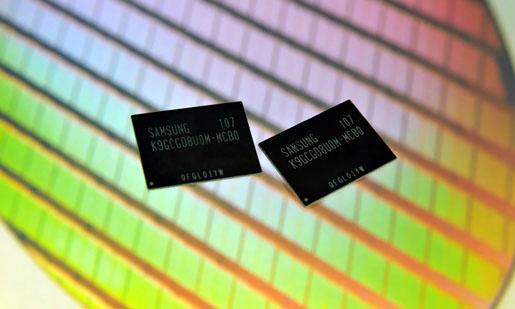 Samsung Electronics has announced what it claims is the industry's first production of a high-performance Toggle DDR 2.0 multi-level-cell (MLC) memory chip, designed to support the high-performance requirements of mobile devices such as smartphones, tablets and solid state drives (SSDs).
The new chip features a 64Gb density, made possible by using an advanced 20nm-class process technology, the vendor said. Equipped with a toggle DDR (Double Data Rate) 2.0 interface, the device can transmit data at a bandwidth of up to 400Mbps. This provides a 10-fold increase over the 40Mbps SDR NAND flash memory in widespread use today, and a three-fold boost over 133Mbps toggle DDR 1.0, 32Gb NAND flash memory, Samsung added.
The high-speed 400Mbps bandwidth of toggle DDR 2.0 is expected to better support the ongoing shift toward advanced interfaces, as more mobile and consumer electronics devices requiring added performance and higher densities adopt new interfaces such as USB 3.0 and SATA 6.0Gbps, according to Samsung.
The new 64Gb MLC NAND chip also offers an approximate 50% increase in productivity over 20nm-class 32Gb MLC NAND chips with a Toggle DDR 1.0 interface, which Samsung started producing in April 2010, and more than doubles the productivity of 30nm-class 32Gb MLC NAND, the company said.