Parrot Specchio's Martin Szekely-designed Wi-Fi digital photo frame
Photo: Company
Friday 21 November 2008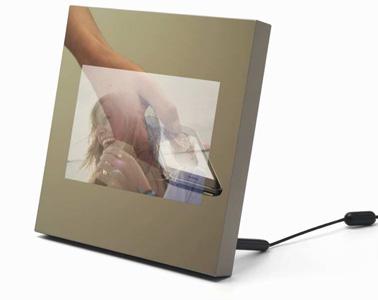 The Parrot Specchio Wi-Fi digital photo frame, designed by artist Martin Szekely, becomes a mirror when it is turned off and can automatically receive and display pictures.
The product features a LCD screen with 720x480 resolution, and can be connected through Wi-Fi, Bluetooth, NFC (near field communication), mini-USB port and SD card reader.
The photo frame also comes with built-in 200MB memory which can store up to 1,500 digital pictures with Parrot's optimized compression technology.
The product will be available in November 2008.