The first panel talk at Asia Venturing online forum, held on July 16, 2021 by DIGITIMES and Anchor Taiwan, featured the vice president and general manager of Business Solutions Group at Qisda Corporation Michael Lee; partner of Japan's MS&AD Ventures Tiffine Wang; and Kickstart Ventures president Minette Navarrette and Kickstart Ventures VP for investments Joan Yao. They spoke about investing in foreign startups, discovering opportunities for the parent company and pumping momentum for young companies to grow and innovate.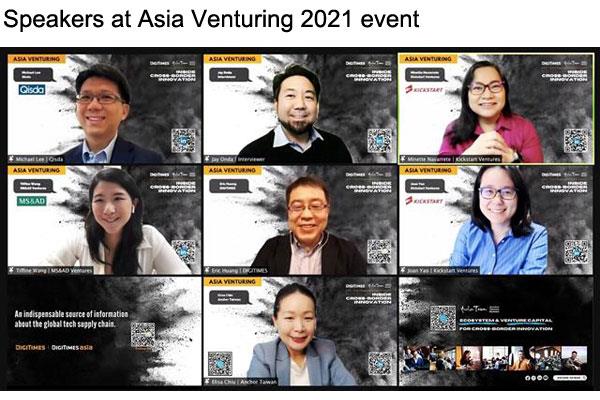 From left to right, top to bottom: Michael Lee, Jay Onda, Minette Navarrette, Tiffine Wang, Eric Huang, Joan Yao, and Elisa Chiu.
Photo: Anchor Taiwan
Anchor Taiwan founder Elisa Chiu noted at the beginning that the "Corporate Venturing Roundtable," a closed-door invitation-only series organized in collaboration with DIGITIMES, has so far brought together over 60 key drivers of innovation and strategic investment from companies. In the future, it is hoped that more regional partners can be connected, promoting cross-border cooperation between Asia and the rest of the world.
DIGITIMES VP Eric Huang noted that 95% of large corporations in Japan have invested in startups through venture capital. The percentages are 85% in South Korea, 70% in China, 60% in Singapore and Thailand each, 35% in Indonesia, 30% in Vietnam, and 20% in Taiwan. Nine of the 12 unicorns produced in Southeast Asia are backed by corporate venture capital from big enterprises, many of which are foreign companies from China, Japan and Korea. Cross-border corporate venture capital is a key force driving technology innovation in Asia, asserted Huang.
Qisda saw the trend of paradigm shift 10 years ago, and it transformed and diversified its operations through venture capital. Kickstart Ventures was established nine years ago to manage a venture capital fund for its parent company Globe Telecom and one of its major shareholders, Ayala Corp. MS&AD Ventures was set up in 2018, with its investment directions highly in line with its parent group's businesses, including insurance technology, financial technology, transportation and digital healthcare.
Cross-border to create complementary partnerships
As the head of a Southeast Asia venture capital fund, Minette Navarrette pointed out that innovation in business models is crucial in the Southeast Asian market, where technology can be brought in from all over the world, but if it is to grow in scale, it must be able to meet very diverse needs of customers. Partnerships are also crucial, whether between startups and startups, or between startups and large corporations; such complementary partnerships will create more value in a diverse Southeast Asia, cross-border or cross-cultural cooperation.
Tiffine Wang said that opportunities presented by good cases must be seized. Her experience of working with large corporations in the past has taught her that perseverance and patience are needed, and that the structure of many corporate venture capitals may not be sound, and need to be re-examined in order to improve the chances of success. Joan Yao stressed that CVCs are actually innovation scouts for their parent companies, and must be given a high degree of autonomy. Sometimes the parent company may not buy into an investment proposal initially, but the fund manager can wait a few months or a year for the target trend to become more mature, and talk to the parent company again. The results may be different.
Yao added that "timing" is important. In the Philippines and Southeast Asia, more and more people are now shopping online. There were already some e-commerce startups when Kickstart was first created in 2012-2013, but the digital economy is only starting to mature over the past few years.
Over the past five years, Southeast Asian startups have received more attention from overseas investors, and more and more venture capitalists have come to Southeast Asia to set up offices, mainly because the population of digital consumers in Southeast Asia is growing at a staggering rate. The large amount of capital invested is driving the growth of this sector, and of course there are more opportunities to make money. Promising startups in Southeast Asia's digital economy are naturally the targets that venture capitalists are chasing.
Searching for undervalued teams around the world
Michael Lee, who specializes in investing in hardware and deep tech startups, emphasized that individual markets have their own specific preferences. For example, hardware manufacturing companies cannot be reasonably valued in the US market but are suitable for Asia. Software companies that are undervalued in Singapore and Hong Kong may be more suitable for the Middle East or other Southeast Asian markets. Therefore he will actively approach such companies as value investment targets. Qisda is currently looking more for synergies than financial gains.
Lee disclosed that in 2016, when the European economy was at its worst, Qisda bought a small company that was on the verge of bankruptcy for US$1. Now the company has made millions of dollars in profit, but more importantly, Qisda has built a deep partnership with the company because it stepped in to save it at its critical time. As long as the market is right, the team is right, and there are no major management problems, Qisda will make an investment decision soon after getting to know the team and evaluating them.
Most of Qisda's investments in the past five years have been in mergers and acquisitions, an approach that is different from traditional VCs'. The company has learned about these M&A targets from the supply chain and channels, as well as recommendations by consulting firms and other venture capitalists. But Lee's investment philosophy is to assemble a strategic investment portfolio that can work closely with the company with good synergy. Lee likens it to a team in a ball game, where all different positions need to be defended. Qisda looks at the kind of companies that are missing in its portfolio, rather than the best performing companies in sectors where it already has enough.
Startup characteristics that CVCs favor
When asked by moderator Jay Onda, the aforementioned venture capitalists said that the selection of startups cares not much about which country or region they come from, but rather the demonstration of strong growth momentum, data orientation, sensitivity to the market and consumers, the ability to create synergies with the parent company/group business, the personality traits of the founders (humility, ability to withstand pressure), their track records of entrepreneurship, and the teams' understanding of the market and competitors. If you can do your homework on the needs of investors before making a proposal, and present your in-depth understanding of and unique insights into the interaction between technology and users, as well as get recommendations from your connections, you will greatly increase your chances of getting the attention of VCs.
Why is humility important? According to Minette Navarrette, because people are bound to make mistakes, those who are open-minded and willing to accept advice from others can correct their mistakes sooner. Navarrette had been working in big companies from other countries before joining Globe Telecom. At Globe Telecom, she witnessed the rise of digital innovations in Southeast Asia, and decided the Philippines must not miss the opportunity. She set up Kickstart Ventures with a US$2.5 million. She said curiosity is an important strength for hers because she knows her knowledge is limited and asking questions has given her a deeper understanding of what it takes to invest in startups.
Navarrette said one thing she has learned over the past few years is that it's not the investor's dream that matters, but the founder's dream. Asking a variety of open-ended questions and listening intently will help avoid making decisions that are inappropriate. Investing is about finding like-minded partners who will work together to improve people's lives, said Navarrette.
Next up on Asia Venturing is Tech Driven-Mobility on August 10, 2021, at 8 am with Jack Cheng, CEO at the Foxconn-led MIH electric vehicle development platform, and QEV Technologies' CFO and Rimac's former COO Monika Mikac.
(Editor's note: Asia Venturing is a series of monthly roundtables with roadmaps to the future focusing on the hype v.s. the reality of Asia's supply chain-boosted innovation ecosystem, jointly powered by DIGITIMES and Anchor Taiwan. We bring together leading industry luminaries, corporate strategists, experienced investors, and entrepreneurs to expand your network and redefine the possibilities of cross-border opportunities.)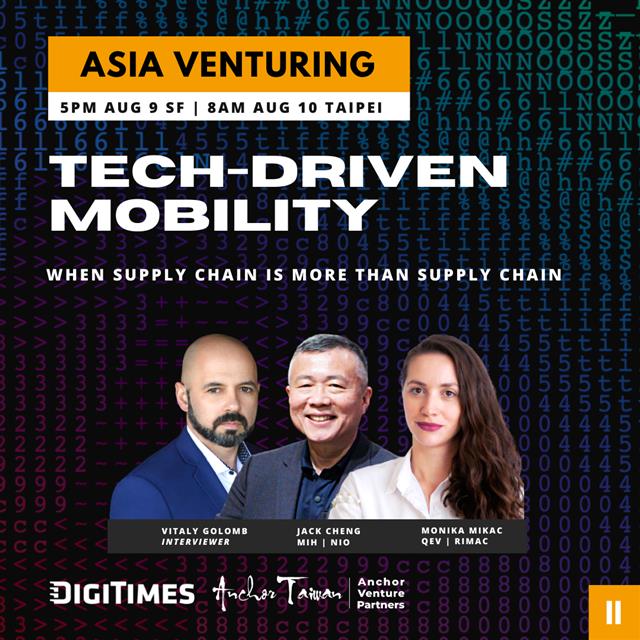 Asia Venturing: Tech Driven-Mobility scheduled for August 10
Photo: Anchor Taiwan