Simplo subsidiary AES to go public in March
Aaron Lee, Taipei; Joseph Tsai, DIGITIMES
Simplo Technology's subsidiary AES that focuses on R&D of lithium backup battery unit (BBU) for datacenters and and electric vehicles (EV), will be listed on Taiwan Stock Exchange (TSE) starting late March, according to AES president Jerry Sung.
Sung pointed out that AES' battery module shipments for two-wheel electric vehicles picked up 30%, 21% and 1.8% in Europe, North America and Japan, respectively during the period from 2015-2019 and will continue to see growth in 2021 because of rising demand for eco-friendly transportation and government subsidies on EVs to prevent the spread of the coronavirus.
As many countries have begun encouraging consumers to purchase EVs instead of using public transportation, sales of lightweight EVs have been picking up in the retail channel of Europe, Sung said.
Although AES has also begun developing a four-wheel EV battery module, the product may not be ready for another three years, Sung added.
AES generated a total of NT$4.86 billion (US$172.58 million) in consolidated revenues in 2019. Its consolidated revenues reached NT$2.03 billion in first-half 2020 and NT$1.91 billion in third-quarter 2020.
Simplo, currently has a 73% stake in AES, has reported consolidated revenues of NT$85.47 billion for 2020, up 15.9% on year to set a new record, thanks to robust shipments of notebook battery modules.
Simplo saw consolidated revenues grow 64.3% on year to arrive at NT$7.87 billion in January, also the company's highest record for the month.
At the moment, Simplo's visibility of notebook battery orders already has reached the end of first-half 2021 and the company's revenues are expected to continue growing during the period. However, the company is conservative about notebook battery sales in the second half of the year.
However, the sales momentum of AES will remain strong in the second half of 2021 due to stable demand from the datacenter and EV sectors.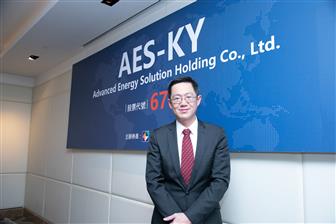 AES president Jerry Sung
Photo: Shihmin Fu, Digitimes, February 2021