Digital technologies such as 5G, big data, and AIoT have driven the continuous update of displays and smart applications with reach extending to many vertical markets, one of which is the key market of transportation. During "AUO Tech Forum 2020" hosted by AU Optronics Corp, a dedicated subforum was held for "smart transportation."
Huge potential in rail transportation is a new blue lake for digital commercial displays
Eric Su, Director of the Public Information Display Division at AUO stated that the company has invested heavily in transportation over the years and has gradually identified a "blue lake" in rail transportation. The company will continue to develop business opportunities in relevant infrastructure and focus on working with companies dealing in passenger information systems (PIS) in the future.
Eric Su emphasized that PIS is one of the fields that best exemplifies the commercial value of displays. Using the example of light boxes which were previously dominated by mono color LED, the company is seeing more and more LCD products being implemented. However, traditional LCD products attempting to enter the field of transportation face many challenges such as space restrictions, harsh environments, and high customization requirements.
Despite the many challenges, these hurdles are perfect for showcasing the capabilities of AUO's display technologies such as maximum support of 2,500 nits, readability under direct sunlight, and compliance with new trends such as wide temperature range and green energy. More importantly, AUO has developed the industry leading and revolutionary technology TARTAN and the ability to offer stretched display panels as well those with special aspect ratios such as square and round shapes that can meet client requirements with diverse customizations.
Dr Andy Cheng, Industrial Technology Research Institute Deputy Director of the Vehicle Information and Control Systems Group, dissected the current status and outlook of self-driving buses. He mentioned while many believe that displays are not necessary in self-driving vehicles, the opposite is true; as self-driving vehicles cannot be entirely driver-less when initially entering roads, accompanying staff require display panels to keep up to date with dynamic vehicle information.
In the field of self-driving vehicles, buses have great potential due to their fixed routes, which can reduce environmental complexity. Therefore, the Industrial Technology Research Institute delved into self-driving buses in specific Level 4 areas and began closed testing in the first half of the year; Soon, they will work with the Hsinchu County Government in Taiwan to launch self-driving shuttle buses from Hsinchu THSR station to Sheraton Hsinchu Hotel and perform the nation's first self-driving tests on open road environments.
Smart Internet of Vehicles greatly enhances operation efficiency of fleets
ADLINK Director of Internet Communications and Infrastructure Business Dr. Henry Hu gave a talk about "Self-driving Vehicles are Simple." He mentioned that based on U.S. statistics, traffic consumes the amount of time equal to the lifespans of 162 people making it clear that traffic has a significant impact on a country's competitiveness and that self-driving cars can ease this issue; he points out that self-driving technology is not far away in the future but already present in everyday life. Farmers in the U.S. and Japan use driver-less vehicles to harvest crops, spray pesticides, and turn soil while closer to home, the MRT Wenhu line in Taipei has also been self-driving since 2016.
Many in the public believe that self-driving technology is challenging mainly because while Waymo, a self-driving technology company obtained their license for driver-less vehicles in 2012, there has been no massive commercial conversion; on the other hand, the driver of a renowned electric vehicle brand activated the autopilot function on the freeway and crashed into a truck that was laying on its side, showing that even with Level 2 self-driving there are many challenging aspects. Dr Henry Hu believes that if we choose "limited areas" and reduce complicated variables, such as dedicated lanes for self-driving buses, it's possible to massively reduce the obstacles to viability.
ADLINK purchased a company specializing in IoT data distribution service (DDS) and made the technology open source. This became the communication architecture for the robot operating system ROS 2.0 while Autoware, the world's largest open source software for self-driving vehicles is also based on ROS architecture. ADLINK has forged a series of ecosystem partners in self-driving technology and can provide comprehensive hardware/software integration to help clients compete for self-driving opportunities in limited areas.
Sintrones Sales Manager Derek Ho introduced in-vehicle computing solutions. The development of in-vehicle computing is closely related to internet technology. The 3G era saw computers integrated with 3G, GPS, and Wi-Fi with support for diverse applications; during the 4G era, we began to receive video that satisfied requirements for surveillance and recording; as we enter the 5G era, we can not only capture video but also combine them with AI modules for inferential analysis.
The key to self-driving technology, whether we're between Levels 2~5, is data collection. When looking at the 3 major fields of application in C-V2X, this defines the data collection requirements before, during, and after an accident; this requires in-vehicle computing to connect with radar, cameras, GPS, or 4/5G data to ensure there are no communication obstacles between the driver, vehicle, networks, and mobile base stations.
AUO Senior Director of Transportation Solutions Jackson Weng provided details on the value of AUO's internet-of-vehicles solutions. He pointed out that network connectivity makes vehicles smarter and increases operational benefits. AUO is currently developing an AIoV total solution package for internet-of-vehicles that encompasses cloud-to-ground, software and hardware, AI and vertical applications that provides the level of customization that satisfies the management requirements of vehicle operators.
The AIoV cloud platform provides a wealth of management tools and AI added-value functionality that can connect the vehicle, dashboard, PIS, sensors, cameras, and CAN bus. The system is supported by high brightness AUO vehicle displays with support for TARTAN technology, providing operators with 5 major benefits including monitoring and optimization, fuel or battery consumption, and reducing operating costs; the platform collects driving records for different periods and routes to use as a basis for analysis for load efficiency or fuel consumption; monitor emergency braking activity performed by the driver and activate remote control at any time; monitor health status of sensors and parts for early repair; enhance safety by monitoring driver activities such as use of smartphones or falling asleep to reduce the costs of insurance and traffic tickets.
Looking towards the future, the opportunities of self-driving vehicles, buses, rail transportation, and internet-of-vehicles will inevitably grow with limitless potential; For this end, AUO has provided advanced vehicle display technologies, forged alliances, and called on our partners in various fields to collaborate and satisfy the demand for application development in smart transportation.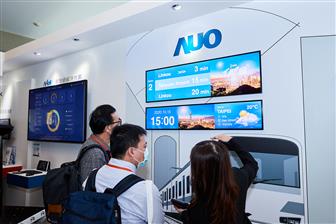 AUO TARTAN displays are available in diverse ratios and sizes and can be applied in the display of transportation information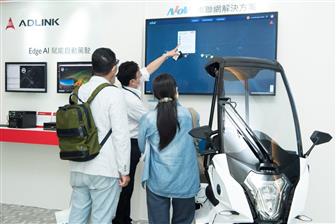 AUO and ADLINK demonstrate AIoV and self-driving solutions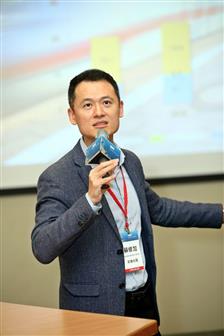 AUO Director of Public Information Display Division Eric Su explains how display technology is one of the keys of smart transportation systems
DIGITIMES' editorial team was not involved in the creation or production of this content. Companies looking to contribute commercial news or press releases are welcome to contact us.