Taiwan Association of Machinery Industry (TAMI) and Taiwan Electrical and Electronic Manufacturers' Association (TEEMA) have jointly established a smart manufacturing alliance to help local makers and promote digital transformation, in a bid to turn the country into a high-end manufacturing hub in Asia.
The US-China trade war and coronavirus pandemic are changing the global supply chains and digital transformation is inevitable for Taiwan's manufacturing sectors, TAMI said. But about 97% of Taiwan's manufacturers are small- to medium-size ones, and digital transformation means huge costs for them, TAMI noted.
The Taiwan Smart Manufacturing Alliance is committed to facilitating digital transformation of equipment makers and small- to medium-size manufacturers, it said, adding the new alliance is so far the largest cross-industry partnership for promoting smart machinery.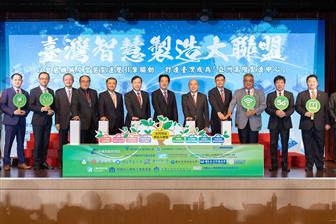 Inaugural ceremony for Taiwan Smart Manufacturing Alliance
Photo: TAMI