Growing maturity of artificial intelligence (AI) technology is enabling leaping advances in automated optical inspection (AOI) for the manufacturing sector. ADLINK is working with leading information technology (IT) provider Fujitsu to introduce a False Call Reduction (FCR) system - a new smart manufacturing solution built with Fujitsu's robust AI computing power and ADLINK's extensive experiences in collecting manufacturing data and developing manufacturing applications. They expect to bring the solution into action on the surface mount technology (SMT) production lines by year end.
Quality control is a step in the manufacturing process that is critical to production yield and product quality optimization. It has generally been performed by human workers and automated optical inspection (AOI) until the rise of smart manufacturing wherein AI is reshaping production line systems. As part of its active undertakings in AI-enabled solutions, ADLINK began collaborations with Japan-based IT technology provider Fujitsu in 2020 to integrate Fujitsu Advanced Image Recognition(F|AIR) with ADLINK's edge computing industrial PC (IPC) to boost visual inspection accuracy above 90% and thereby reduce AOI false call rates on SMT production lines so that manufacturers can achieve higher precision quality control.
With defect detection being an essential part of quality control, manufacturers have been making use of AOI equipment to help production line workers identify defects at a higher level of accuracy. To make the process more efficient, maturing AI technology is being introduced in AOI to tap the power of deep learning algorithms and make defect detection more intelligent and more accurate.
AOI may not necessarily increase production line efficiency
According to Ming-Che Cheng, Business Development Director, Smart Factory Business Center, IoT Solutions & Technology Business Unit of ADLINK , when manufacturers incorporate AOI equipment on their SMT production lines for quality control, they generally configure AOI settings with rigorous standards. This results in a high number of false calls, each of which requires reexamination by human workers and manual data update or input. Such added processes not only hinder efficient production line operation but also burden human workers with so much work that they may be prone to misjudge defective products as good products due to fatigue, causing return, rework or even damage to manufacturers' business reputation.
ADLINK joins forces with Fujitsu to create a new integrated AI platform
ADLINK is endeavoring to find a solution to the issue, noted Cheng. After years of development, ADLINK's AI-based inspection hardware has reached maturity. For software capabilities, ADLINK turns to Fujitsu in hopes of leveraging its robust AI software strength to jointly build a hardware-software integrated FCR system. According to Jung-Lang Wang, technical manager, Digital Co-creation, Fujitsu, global IT heavyweights flex their muscles by presenting powerful supercomputers. Fujitsu builds F|AIR on top of its high-performing servers and has put the solution to use at its production bases in Europe. It is then in search of partners to help bring F|AIR to Asia, the world's manufacturing hub. The partnership between ADLINK and Fujitsu is a perfect match. By combining Fujitsu's F|AIR and ADLINK's edge computing IPC, they offer manufacturers engaging in SMT processing an ideal solution that reduces AOI false calls.
Boosting the FCR system's adoption by ensuring continuous uptime
Featuring a non-intrusive design, the partnership FCR system can be installed without having to shut down the SMT line. It can be up and running after simple parameter adjustments, which can be replicated to other production lines. It can learn from the training models about defects in images while in operation and reduce false calls by more than 90% without having to train on a large quantity of images. Then, the significantly reduced number of images determined to have defects are turned over to human inspectors who can take the time to conduct reexamination and improve quality of work. Furthermore, the FCR system can aggregate the reexamination results for subsequent training. Not only is the inspection process made more efficient, manufacturers get to enjoy higher units per hour (UPH). More importantly, all software and hardware run in parallel to existing AOI equipment so manufacturers' past investments will not go to waste.
Based on a deep learning algorithm, the FCR system will deliver a higher level of accuracy with a larger quantity and variety of training images. That is, the system will grow in accuracy with the time it runs on the SMT line. Aside from training purposes, the images it collects on the production line can also be used to trace production history for manufacturers to improve product quality and for customers to gain insights into the production process through visual data.
The FCR system is built for small-volume large-variety production
The FCR system now runs on ADLINK's own SMT line. It is especially suitable for small-volume large-variety production, said Wang. Its deep learning implementation allows it to accommodate a diverse range of production requirements. ADLINK and Fujitsu will continue to work together and expand the application scope for the system to help manufacturers address challenges in AI-based visual inspection.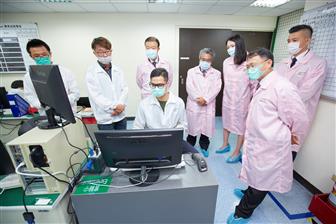 ADLINK turns to Fujitsu in hopes of leveraging its robust AI software strength to jointly build a hardware-software integrated FCR system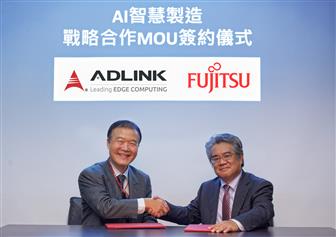 Daniel Yang, president of ADLINK (left) and Yuguchi Akashi, Fujitsu Taiwan president (right)
DIGITIMES' editorial team was not involved in the creation or production of this content. Companies looking to contribute commercial news or press releases are welcome to contact us.