Coretronic Intelligent Robotics has developed a navigation solution based on 3D LiDAR SLAM (simultaneous localization and mapping) technology for autonomous mobile robots, according to company president Andy Hsin.
Without GPS signals for positioning, industrial carrying vehicles used to be equipped with magnetic stripes, reflectors or QR codes for accurate positioning, making it difficult to deploy them at factories, Hsin said.
The 3D LiDAR SLAM-based navigation solution is capable of 360-degree scanning and matched with a sensing-fusion algorithm and sensing data collected from gyroscopes for positioning.
The solution is equipped with 3D-depth cameras to real-time capture characteristics of pallets for comparison and thereby can recognize shapes of different pallets and spatial coordinates of pallets to automatically adjust depth of fork-picking and compute optimal routes for robots to fork-pick pallets.
Coretronic Intelligent is developing AGVs (automated guided vehicles) in cooperation with material handling equipment maker Noveltek Industrial Manufacturing, which is providing vehicles and necessary parameters to be set for moving vehicles, Hsin noted. With tests recently completed, such AGVs will be put into use at one or two factories by the end of 2020, Hsin said.
It has cooperated with military, police and fire agencies in Taiwan to boost use of drones for security patrols and with a company in Japan to use drones in logistics operation, Hsin said.
It has signed a MoU for strategic cooperation in application of drones with Japan-based KDDI and South Korea-based LG U+, Hsin noted. For cooperation with KDDI in particular, plans of using drones to inspect electric towers and facilities along railway lines in Japan will be finished by the end of 2020, Hsin indicated.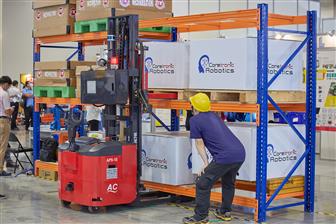 An AGV developed by Coretronic Intelligent Robotics
Photo: Michael Lee, Digitimes, August 2020