Taiwan has seen startups proliferating in diverse segments, and how to extend their reach abroad and build international connections is a pressing matter. Three startups shed light on their ways to develop overseas markets and form Asia startup ecosystems in a recent forum jointly hosted by Taipei City Government and Digitimes.
Joseph Wang, founder and CEO of Osense Technology, said at Startup X: Cross-border Eecosystem that his company is dedicated to developing more-reliable 3D maps by leveraging AI algorithm and analysis of diverse light images, radio waves, ultrasonic waves and other types of data.
He disclosed that Osense has recently established a vision-based indoor position (VBIP) system, which can fast compose 3D maps for any given place by utilizing the firm's in-house developed simultaneous localization and mapping (SLAM) technology to integrate geomagnetic waves, thermal induction and mmWave sensing data, without having to use Bluethooth, Wi-Fi, GPS or even camera filming systems. The system can be paired with VR to provide indoor positioning and navigation functions.
Wang said his firm's solutions have been adopted by Thailand's mass transit system transportation conglomerate BTS Group and Japan Railways for use at MRT and railway stations, in addition to Taiwan's Taoyuan International Airport and local baseball stadiums.
As AI-generated data will gradually replace data generated by users, Taiwanese startups can better leverage the country's robust ICT hardware manufacturing capability to shine in international markets with more impressive innovations.
Funique VR Studio founder and CEO PY Cheng said that as a digital content startup, his company has been keen on trying various new technologies in developing high-resolution VR content for education and entertainment. For instance, Cheng said, the company has developed a complete set of interactive VR content featuring 8K per-eye resolution, with the development starting in 2016 when 4K was still the mainstream resolution for VR.
The efforts, Cheng stressed, can fully demonstrate the creativity of Taiwan's digital content startups, which is exactly one of the advantages for Taiwan startups. He revealed that Funique's high-resolution VR contents have won patronage from Singaporean clients, and the company is extending its products to medical application, with VR images able to be amplified 40 times to support da Vinci surgical robotic arm.
Chris Hsiang, founder and CEO of Silicon Valley-based startup matching platform Panorama, said her company can serve as a bridge between Asian startups and Silicon Valley tech giants and startups to explore possible cooperation. Silicon Valley enterprises are seeking constant innovations, and startups in Asia can provide them with external innovation momentum, Hsiang said, stressing that Taiwanese startups, with their solid technology prowess and innovation capability can better satisfy the needs of businesses operating in the US high-tech hub.
Hsiang said that every market has its own distinct trait, and Taiwanese startups have to study more about any target overseas market before kicking off their international sales development plan.
She noted that Panorama can offer customized services to help Taiwan startups or serve as their agents in making visits to and building connections with enterprises in Silicon Valley.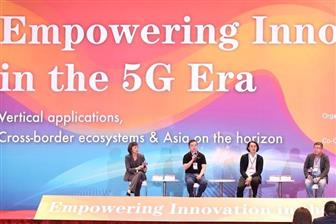 Startup X: Coss-border Ecosystems
Photo: Digitimes staff, November 2019