JustCo flexible coworking space helps startups better tap resources
Mark Tsai, Taipei; Willis Ke, DIGITIMES
JustCo, a Singapore-based coworking space provider, has been keen to help startups better tap funding, talent, technology and market resources needed to support their operations through flexible space usage solutions, distinct space designs and friendly community ecosystems offered for coworking space users including startups and large enterprises, according to George Chen, general manager of JustCo Taiwan.
Chen said through renting coworking space, enterprises ranging from startups with fewer than 10 staffers to established businesses with over 200 employees, can achieve the most cost-effective use of office space in the employee turnover process.
Besides stylish light meal and drink bar, indoor decoration and space designs, JustCo usually reserves 30-40% of the coworking space for common use by employees of enterprises renting the space, allowing them to stoke creative ideas through social exchanges further paving the way for cross-industry cooperation, according to Chen.
He continued that a regular gathering is held every other week, with 2-3 enterprises invited each time to share their services and product offerings, providing opportunities for many startups to more easily locate talents, raise funds, share technologies and develop markets.
Chen also noted that a JustCo app is also available to allow clients to reserve JustCo conference rooms worldwide before going abroad on errands and they can also build personal connections with other member clients through the assistance of the firm's central management platform.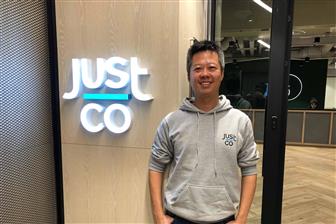 JustCo Taiwan general manager George Chen
Photo: Mark Tsai, Digitimes, November 2019