MedicalTek has developed MonoStereo, a 3D endoscopic visualization system that provides 3D images to help surgeons hike accuracy and quality for minimal invasive surgical operation.
MedicalTek, a startup business engaged in developing medical solutions for minimal invasive surgery and incubated by Show Chwan Health Care System in central Taiwan, showcased its solutions in a recent Dtalk forum arranged by Digitimes.
MedicalTek aims to improve quality and safety for minimal invasive surgery through strengthening surgeons' sensing capability by virtue of converting 2D endoscopic images to 3D ones, the company said.
MedicalTek has signed with 12 sales agents in Taiwan, the UK, Australia, Japan, Indonesia, Malaysia, Thailand, Vietnam, the Philippines and Myanmar and plans to offer 4K models in 2020.
San Draw, a startup incubated at Berkeley SkyDeck, an accelerator program of the University of California, Berkeley, unveiled a silicone 3D printer in early 2019, according to company CEO Michael Lu at the Dtalk event.
Founded in 2015, San Draw obtained a US patent for its silicone 3D printing technology in 2017 and raised funds from international venture capital firms in 2018, Lu said.
The silicone 3D printing technology features various colors and adjustable hardness of printed products and multiple materials used in the printing, and can be applied to RTV (room-temperature-vulcanizing) silicone and liquid silicone, Lu noted. In addition to the US, San Draw has obtained patents in Taiwan, Japan and China for the technology, Lu indicated.
Silicone 3D printing, for production of silicone-based materials for medical use, entails much less cost and time than manual molding and liquid injection molding, Lu said.
Broadsims has developed AI-based verification system (AVS) to secure regulatory compliance for development of medical instruments and devices, company founder and CEO Bruce Yu said during the forum.
With built-in YY, JJG and IEC technical standards, AVS can automatically interpret the related regulations to check regulatory compliance for a medical instrument or device to be developed, facilitating the product's certification, Yu said.
Broadsims has developed several versions of AVS for medical instruments or devices used in monitoring patients, ECG (electrocardiogram) monitoring, Holter ECG monitoring, SpO2 monitoring (pulse oximetry), NIBP (non-invasive blood pressure) monitoring, infusion pumping, diagnostic and monitoring ultrasound, high-intensity therapeutic ultrasound.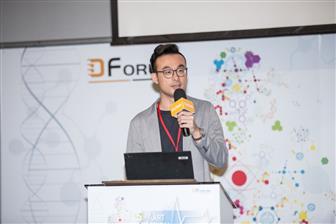 San Draw CEO Michael Lu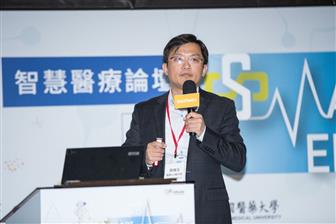 Broadsims founder & CEO Bruce Yu
Photos: Digitimes staff, November 2019