Sustainability and digitalization: Q&A with Covestro CEO Markus Steilemann
Rebecca Kuo, Tainan; Willis Ke, DIGITIMES
Germany-based Covestro, spun off from the Bayer Group in September 2015, is now among the world's leading makers of premium polymers with 30 production bases and around 16,000 employees worldwide, mainly engaged in supplying high-tech polymer materials and solutions for diverse applications to automotive, electronics, electrical equipment, building, furniture, healthcare, leisure sports and more.
Now the company is steering its development toward sustainability and digitalization in line with the trends for going green and digital at enterprises, the firm's CEO Markus Steilemann, told Digitimes in a recent interview.
Q: Covestro unveiled a series of new products and solutions at K Fair 2019, particularly highlighting sustainability and digitalization. Why?
A: For Covestro, constantly going beyond the limits has been its top guiding principle. We have set sustainability and digitalization as crucial development directions mainly because the United Nations released several years ago a spate of sustainable development goals (SDGs), providing clear future trends for both humans and enterprises. Covestro has adjusted its business activities and strategies accordingly.
In line with the global megatrends of climate protection and population growth, we have to thoroughly rethink lifestyles and consumption behaviors while also promoting circular economy by turning wastes into renewable resources, so that we can handle limited resources in more responsibly to support further environmental protection.
In promoting circular economy, Covestro is gearing up to use industrial wastes and carbon diode as a new and useful raw material, reducing reliance on fossil and bio-based resources. We are also developing new technologies to maximize systematic recycling of waste plastics, and will collaborate with more partners to explore new business opportunities in the transition from a disposable to a circular economy.
Meanwhile, as digitalization will be another major force driving economic and societal developments in the coming years, Covestro hopes to explore digitalization-induced business opportunities by implementing a series of customer-centric strategic development plans covering digitalization supply chain, production, R&D, user experience and new business models.
Covestro now adopts a three-pronged approach in developing its digitalization service business. First is providing solutions to help digitalize the fabrication, operation and maintenance of global manufacturing equipment. This also includes evaluation of real-time data collected from terminal devices to help clients optimize plant maintenance.
Second is setting up digital exchange platforms for diverse chemical materials, allowing clients to efficiently purchase standard products at current market prices. Since 2018, Covestro has channeled sales of its flagship products through the 1688.com platform operated by Alibaba, now the largest e-commerce platform in China.
Third is offering digitalization tech services ranging from the synthesis of chemical materials and the development of formulas to processing and final treatment of plastics products, aiming to help clients work out efficient production processes.
Q: How does Covestro see the future development of driverless vehicles?
A: Autonomous vehicles, electric cars and car sharing will redefine the use of a vehicle, which will become a multifunctional, mobile living and working space. We can imagine that cars of the future will be fully networked and seamlessly integrated into everyday life, providing drivers with brand-new experiences and the greatest possible autonomy.
Covestro predecessor Bayer MaterialScience demonstrated the world's first automobile with all-plastic body jointly developed in collaboration with BMW in 1967, and has since kept creating many concept cars by integrating innovative materials, design and technology solutions.
Covestro last showcased an EV concept car at K Fair 2016, which particularly featured a totally new, seamless front end housing electronics system, optical radar system and photography system, with no engine and heat dissipation system needed.
At this year's K Fair, our latest concept car focuses equally on functionality, comfort and design, as well as on efficiency and light weight, with multi-sensor infotainment systems, innovative seating concept, smart surfaces and personalized lighting specifically highlighted.
For the infotainment systems, we place special emphasis on 3D seamlessly integrated multifunctional display to bring a new visual experience for users, with newest human-machine interfaces available to facilitate passenger communications with the car and the outside world.
Covestro also presents smart functional surfaces with premium look and feel through the combination of unusual materials including wood, stone and aluminum, in addition to adopting polycarbonates and special textile coating technology.
As the classic function of the driver's seat is no longer required in a future car, seats in the car should offer not only comfort but also enough flexibility for expanding the interior space into a conference room.
Covestro has positioned itself as not only a manufacturer of polymer materials but also a co-designer of future cars. We can leverage our research on concept cars to prove that our materials can provide innovative, low-cost, light and good-looking solutions for next-generation vehicles.
Q: How does Covestro assess the future development of the 5G era? What changes will it bring to human life?
A: 5G networks will satisfy the communication needs of terminal users and economic development in 2020 and beyond. The new technology will enable close networking of devices such as mobile phones, tablets, vehicles, household appliances, industrial plants and many others to form an Internet of Things (IoT). 5G will become the basis for a fully mobile and networked society and will also be a key technology for digitalizing diverse domains of life and economy.
In the 5G era, demand for base stations, active antenna units (AAU) and other equipment will increase dramatically. Covestro is developing a series of innovative and sustainable material solutions to support smart infrastructure, including low temperature impact modified solutions, AAU weight reduction solutions, radio frequency data transmission research, thermal management solutions, and electronics integration solutions.
Covestro is also cooperating with Deutsche Telekom and Umea Institute of Design on developing sensor technologies, building digital communication environments and conducting seamless integration of base station facilities with smart city application scenarios. In Asia Pacific, Covestro is working with Southeast University in China on the optimization of radio frequency data transmission.
When 5G technology progresses to higher frequency such as mmWave band, signal transmission could become a design challenge. And as 5G antennas require more space for operation, we expect metal solutions currently used for handset back covers will be replaced by ceramics, glass or plastics. Accordingly, Covestro has developed multilayer PC/PMMA film solutions that can be combined with a new manufacturing process to turn out mobile phone back covers that look like glass but are not fragile. The solutions can meet requirements for mmWave high frequency transmission.
At the moment, more than 50% of China-made smartphones have adopted multi-layer PC/PMMA film solutions, and we expect the solutions will penetrate more terminal devices in the 5G era.
Q: What role will materials play in the field of innovations?
A: As pursuing sustainable development and innovation has been our long-term operational policy, we have been developing new materials to cater to the changing needs of the world and activate brand-new strategies.
For instance, Covestro has collaborated with US Government Publishing Office (GPO) in promoting the use of polycarbonate (PC) film, a highly durable material with unique physical properties enabling new applications against counterfeit attempts, as security is top priority for identification documents such as national ID cards, driver licenses and passports. So far, such PC films have been applied as material for government-issued security documents and ID cards in more than 39 countries.
Meanwhile, Covestro has also developed a PU infusion resin solution for wind blade manufacturing.
Covestro has also developed wearable electronic patches for wearable devices that are increasingly needed to support digital healthcare services. The patches allow a variety of applications in monitoring vital parameters.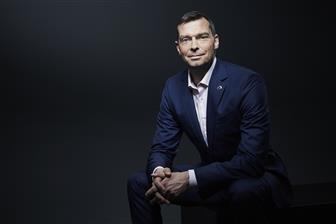 Covestro CEO Markus Steilemann
Photo: Company