Taiwan cloud software startup SoftChef has been devoted to developing comprehensive solutions from edge devices to infrastructures since its inception in 2017, providing customized IoT solutions to better serve clients, according company founder and CEO Josh Chai.
In a recent interview conducted by Digitimes, Chai highlighted the importance for enterprises to build a "terminal" concept and incorporate intelligence into end devices. He also stressed that future business model must focus more on hardware connections to better learn and serve real needs of consumers.
Q: What drove you to set up the cloud software venture?
A: After serving networking specialist D-Link from 1999-2013, I left to set up a B2B e-commerce platform GCR in cooperation with the firm's ex-CEO Tony Tsao as I thought the pure hardware production industry could hardly advance farther. But one year later, I returned the GCR management right to Tsao and joined InfinitesSoft, a developer of hybrid/multi-cloud management software, to learn more about cloud technology.
At InfinitesSoft, I found great business potentials in the Asian cloud market, especially in Southeast Asia and China, prompting me to establish SoftChef to develop cloud-based IoT platforms for IT hardware makers.
Q: After venturing into the IoT management platform domain, did you see any difference between the actual market demand and what you envisioned initially?
A: Initially I adopted the serverless application framework of Amazon Web Services (AWS) seeking to create a general-purpose IoT management platform allowing enterprise clients to manage IoT devices, collect and store data anytime.
But later, we found IoT is a highly customized domain. Actually, an ideal IoT must be like an "oven" allowing enterprises to put in their own materials and process them into distinct "business breads" they need, as so-called standardization and automation can hardly be actualized in IoT vertical applications. In other words, clients require a versatile and agile oven rather than a vending machine selling standardized services.
Q: How do you assess Internet of Everything that many think may materialize after 5G commercialization?
A: In the IoT era, it doesn't mean that all devices should be connected to the Internet, as not all the data collected can generate values and meaningless connections are just a waste of resources. In this regard, a "terminal" concept should be established, meaning that data can undergo edge processing at the local end allowing only valuable data to be stored at the cloud end. In short, any IoT end device should be given timely intelligence.
Q: What kind of value do you think IoT connection can generate for enterprises?
A: If enterprises know little about the purpose of such connections and what data they want, IoT connection can hardly generate useful value for them and adopting even the cheapest NB-IoT transmission system will be not cost-effective for them.
IoT is not a technology but a process of transforming digital economy into infonomics and data economy, with production-oriented business model replaced by service-oriented one highlighting sales of services not merchandizes.
In the future, enterprises have to reply on hardware devices connection to better learn what consumers need so as to offer services that can really cater to their needs and further make them willing to pay for the services at whatever costs.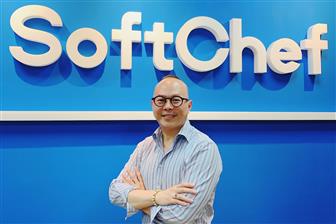 SoftChef founder and CEO Josh Chai
Photo: Vicky Liu, Digitimes, October 2019