Foxconn Technology Group founder Terry Gou, SoftBank Group chairman Masayoshi Son, and Katerra CEO Michael E Marks gathered together at a Taipei forum on June 22 to dissect the importance of Taiwan in the global IT supply chain, as a new world order is being shaped by the arm-wrestling between the US and China.
The "G2 and Beyond" forum was organized by Digitimes to examine the opportunities and challenges presented by the arrival of an era characterized by AI, 8K, 5G and other cross-sector applications that promise a new wave of huge growth despite the dramatic twist in the relations between the world's two biggest economies.
Son, speaking in public in Taiwan for the first time, presented his views at the forum about his Japan-based conglomerate's vision for the future. He noted that artificial intelligence (AI) represents the biggest paradigm shift in human history.
Over the past 25 years, the Internet has brought revolutionary changes to advertising and retail businesses, but AI will be the revolution of the next stage, redefining all industries, Son said.
Son said SoftBank is responding to the paradigm shift with a "Cluster of No. 1 Strategy." The SoftBank Group's companies and venture capital firms will make full use of AI, which promises to solve many of the world's problems, he stressed.
Marks, with experiences across many different sectors, has played leadership roles at SanDisk, Flextronics, Tesla and venture capital firms. He was also the first to introduce advanced IT into the conventional construction business.
Marks noted in his presentation that he has had a long standing relationship with Taiwan's IT industry. In fact, as chairman of Flextronics, he led the EMS provider in a fierce competition with Taiwan and Gou's Foxconn, but they have become good friends now.
Marks said Taiwan owns several key technologies that can attract global investments and enable partnerships with internationally top-notch firms. He also noted that in the US these days, technology companies are either unable or unwilling to accept Chinese investment, so it is a perfect opportunity for Taiwan to invest in the US, and thereby develop long-term technology partnerships.
Digitimes president Colley Hwang pointed out in his presentation that a new order in the global industry is being formed under the G2 framework.
Hwang said that the first island chain formed by Japan, Korea and Taiwan during the Cold War is now an IT island chain that has strong influence in the US-China arm-wrestling, thanks to their prowess in the semiconductor sector. He hopes Taiwan can establish an authoritative voice at this critical moment.
Hwang later also had a dialogue at the event with Gou discussing whether the current situation facing Taiwan is a crisis or a turning point.
Gou asserted that a "G2 leading the world in a one world, two systems" scenario will be the future norm. The US-China trade conflict is changing the global supply chain, sending clients shifting orders and manufacturers relocating production lines.
Taiwan must work out strategies for maintaining good relationships with all sides. He said the economy is a major concern for all of the people in Taiwan, which has long relied heavily on exports. But Taiwan must produce a new economic strategy to cope with the arrival of the IoT age that has revolutionized the industry, he said.
Over 50% of Taiwan's GDP is contributed by domestic consumption, but the local market has never received the attention it deserves, and become one flooded with low-quality products, he remarked.
Gou proposes that Taiwan turn itself into a "Smart IT Island." In fact, Taiwan can be a good test bed: its high-quality education, high penetration for handsets and high population density - together with its advantages in AI, 5G, 8K and semiconductor technologies - make it a perfect environment for integrating the virtual and the real, according to Gou.
As long as the test bed can be well maintained, the people's digital livelihood can be enhanced, he said.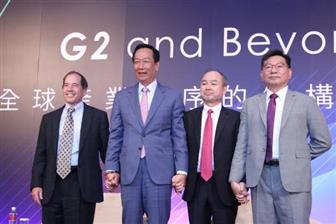 (From left to right) Katerra CEO Michael E Marks, Foxconn founder Terry Gou, SoftBank chairman Masayoshi Son, and Digitimes president Colley Hwang at the G2 and Beyond forum organized by Digitimes.
Photo: Shihmin Fu, Digitimes, June 2019