Widespread adoption of voice assistants such as Google Assistant and Amazon Alexa is spurring burgeoning growth of IoT devices, which were on exhibit throughout the show floors of CES 2019. Transitioning from developing products independently, firms are now introducing products that work in connection with surrounding devices. This is augmenting the synergy of IoT developments and enriching the use scenarios and functionalities of IoT devices.
The startup-centric CES Eureka Park hosts exhibitions of innovative IoT products launched by startup teams. They strive for simple and lightweight hardware design or focus efforts on niche markets as a way to circumvent direct competition against industry giants with ample capital and strong marketing for their IoT products.
Smart kitchen appliances, smart locks and smart pet care devices are the iconic IoT devices for 2019, representative of smart home IoT devices that achieve style, home security and healthcare purposes.
IoT devices for home are expanding from the focus of improving user experiences in the living room to bringing innovations to the kitchen. Eyeing consumer passion for specialty beverages, a startup team adds IoT features to a drink mixer, making life easier and more enjoyable for people.
In addition to being the first line of defense for home security, smart locks embrace growing opportunities in e-commerce logistics. With rising popularity of online shopping, one major problem that retailers and couriers face is failed delivery attempts as people cannot always be home to sign for their packages. To overcome this problem, smart lock solutions let couriers open people's front doors momentarily to drop off packages.
Healthcare for family members has always been a main area of application for home IoT devices. This year, startup teams are taking it a step further to include pet care. By using IoT devices to keep track of pets' behavior and analyze pets' physiological data, pet owners can rest assured that their pets will stay healthy.
Smart kitchen appliances make home living more enjoyable
Smart home devices have always targeted use in the living room. In fact, the kitchen holds immense opportunities for potential applications of IoT devices. One prominent example is LG HomeBrew, a capsule-based craft beer making machine that grabbed the spotlight even though LG also unveiled an amazing rollable OLED TV.
The beer brewing and drinking traditions came with European immigrants to America. After the repeal of the prohibition of alcoholic beverage sales, there has been a resurgence of microbreweries. Besides drinking beer produced by large-scale breweries, some Americans love the unique taste of home-made beer. This gives rise to the popularity of home-brewing equipment like LG HomeBrew in America.
As opposed to LG, making a capsule-based beer machine like a boutique item, Taiwan-based startup Timc introduced a smart beer machine targeting the home brewing market. It has designed and developed a purpose-built solution allowing home brewers to create a brewing environment to reliably control beer flavors. Instead of using capsule-based materials for convenience like LG, Timc emphasizes the use of natural ingredients without artificial flavorings, in hope that users will discover the fun of home brewing.
Timc's beer machine has a fermentation tank that can be removed after all the ingredients are added and the processes before fermentation are completed. All that remains is to wait for the beer to mature. That is, Timc's solution can produce beer in volume so in addition to home brewing, it can also be used for commercial beer production.
LG HomeBrew only uses network connectivity for monitoring brewing progress while Timc plans to develop a smartphone app enabling precise and flexible control of the beer machine's parameters such that users can concentrate on experimenting and exploring more beer flavors, which is the essence of beer making.
For the ideal wine taste, French startup Aveine presented a smart wine aerator. By a simple scan of the wine label using a smartphone, the aerator will get the ideal combination of parameters from cloud for that particular wine and accordingly control the aeration time to allow a perfect bonding between oxygen and tannins, giving a unique taste of the wine.
Japan-based startup Teplo showcased a smart tea bottle that allows tea drinkers to brew the perfect cup of tea by tracking and controlling brewing temperature and time via a smartphone app. Tea leaves release different amounts of caffeine depending on the brewing temperature and time. With Teplo, users can make adjustments to suit the occasion.
Smart locks resolve the headache of parcel deliveries
It can be a headache when the courier company delivers a package to an address and there is no one there to receive it, resulting in a failed delivery attempt. Amazon, with a global logistics operation, came up with the Amazon Key solution allowing the courier to enter the receiver's home momentarily, drop off the package at the foyer and leave.
Amazon Key uses Yale smart locks from Assa Abloy, a renowned Swedish door lock solution supplier. Securing a dominant market position, Assa Abloy manufactures a wide range of door opening solutions including mechanical and electronic locks that can be unlocked via physical keypads, touch screen or mobile communication. Its solutions are not only used for home security but also for commercial and retail environments.
To set themselves apart from the slew of smart lock solutions already on the market, startup companies have to come up with unique technologies or implementations. At CES Eureka Park, French startup Havr presented an innovative solution that enables users to send encodings to the door lock through their smartphones. The door can be unlocked with light patterns flashed by the cameras on their smartphones and scanned by the optical sensor placed under the lock. Havr's smart lock offers virtually the easiest and most convenient way to encode and decode a lock on the market.
Targeting courier services, Dutch startup Den Smart Home took the lead in integrating delivery services with door unlocking process. The courier can use a smartphone to obtain delivery information from a parcel and request access by scanning the QR code on the smart lock or using NFC communication through Den Smart Home's app. The integrated service enables more convenient parcel deliveries. Moreover, the solution can also be used to allow caregivers temporary access to user's home, which is also an important application that Den Smart Home is working on as the Netherlands has a well-developed long-term care system.
In general, smart locks are fitted to doors permanently so they are more suitable for access control to individual buildings. Taiwan-based startup Lubn came up with a smart key lock box, wherein a key is placed and can be retrieved if a correct code is entered. The Lubn smart key lock box has a shackle and can be fastened to a door to quickly and portably control access to different buildings. It can be repeatedly used and thus is ideal for property management.
Burgeoning per care innovations in Asia
IoT pet devices are a new area of home IoT applications. There are two major application scenarios - care and tracking. Pet care devices were particularly catching attention at this year's event. Consumers are generally more concerned over how easy it is to use a home IoT device. If the device is not intuitive and user-friendly, people are likely to give up on it. However, for IoT pet devices, pet owners are willing to spend more time understanding how a product work and to try it out for the creative experiences it can bring to their beloved pets.
Pet electronics have been on exhibit at CES and in the past few years, they were mostly in the form of wearable devices for positioning and tracking purposes to prevent them from getting lost. Pet wearable devices then evolved to include physiological data monitoring. However, as their accuracy could not compare to microchip implants, the development of such application was curtailed. At CES Eureka Park this year, there were pet IoT devices implementing non-intrusive approaches to monitoring pet waste while helping pet owners clean up with ease.
Asian countries devote a great deal of attention to pet care. Three startups from Korea presented pet care products with intricate designs, including a smart litter box from Purrsong, a pet skin care device from Avec and a pet hair care solution from Pepe.
Japan-based firm Hachi Tama has added a new device to its smart litter box to keep track of physiological data for households with multiple pets. It uses AI-enabled cameras to identify pets so that pet owners do not need to buy a smart litter box for each pet and limit their living areas just for the purpose of monitoring their conditions.
Also working on pet waste solutions, Taiwan-based startup iPetoi not only brings convenience to pet owners but also looks to build up a pet physiological database on cloud, which can serve as basis for preventive pet healthcare. Beginning with small dogs, it will expand its product offerings to include different sizes and features.
In general, the home IoT device market has changed from competitions among large-scale network service operators to competitions among home appliance manufacturers, IT equipment suppliers and solution providers. Large exhibits delivering smart IoT home experiences were seen throughout the show floors at CES, giving live demonstrations of product features. Amid such strong competition, startup teams with limited budget are shifting focus to niche products in order to tap unexplored markets.
Taiwan-based startups endeavoring on home IoT devices have outperformed themselves by presenting superior product marketing and design compared to the past few years. They were able to bring forth live product demonstrations at the CES this year, enabling clear presentations of the design concepts and appeals. The only part that needs a little improvement is the mobile app functionalities as these apps were developed by third-party teams. If startups can have access to mobile app development resources, it will help them build an industry ecosystem, on top of which they can create next generation products or promote new service models.
(This is part of a series of articles about Eureka Park startups and innovations at CES 2019.)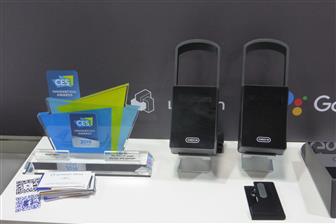 Targeting the property management segment, Lubn smart lock solution works with existing door locks and enables repeated use.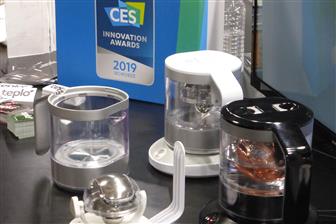 Teplo smart tea bottle allows users to set tea brewing parameters using smartphones.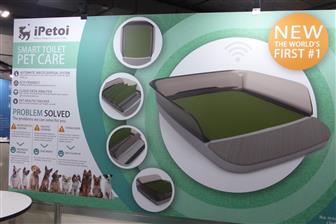 iPetoi smart pet toilet keeps track of pet physiological data on cloud and provides individualized per care recommendations.
Photos: Carlos Chen, Digitimes Research, January 2019