Artificial intelligence (AI) development is no longer something only big players can do and has exploded in recent years with all firms big and small taking the initiative to incorporate AI in their products. AI applications are the focus of attention of the startup community. CES 2019 Eureka Park shed light on the prevailing trend of AI-powered technologies.
CES 2019 Eureka Park hosted more than 1,200 startups from over 50 countries around the world. Among them, close to 100 startup firms presented AI-powered products or services, encompassing home appliances, healthcare products, commercial and domestic robots, as well as large-scale applications such as smart traffic and smart city implementations. In addition to empowering hardware devices, AI also plays an important role in software-based applications such as cyber security, e-commerce and chatbot.
Among the 44 startup teams exhibiting at the Taiwan Tech Arena Pavilion at Eureka Park, 10 showcased AI-powered products, including voice processing, image recognition and natural language processing (NLP) hardware/software applications. Compared to other countries, the Taiwan Tech Arena Pavilion presented a more comprehensive lineup of AI technologies.
Aiming to build up differentiation from big name firms
Taiwan-based startup RelaJet was one of the few firms presenting core voice recognition technologies at Eureka Park. Different from Google Assistant and Amazon Alexa, which engage in speech recognition based on semantic interpretation models built from training on large amounts of data, RelaJet endeavors on acoustic fingerprinting technologies and has introduced an AI acoustic fingerprinting engine that can perform edge computing on hearing aids.
According to RelaJet, its AI engine can extract the characteristics of human voice within 10 milliseconds and then amplify them so that people with hearing problems can still clearly hear a specific person talk in a noisy environment.
Also working on voice recognition technologies, Japanese startup Empath showcased a system that can identify emotion from voice. The system tracks the changes in people's tone and thereby identifies the person's emotion. Moreover, with a graphic interface, users' emotion can be clearly quantifiable so that the recipient can respond properly. The Empath system has been used at call service centers to identify callers' emotion.
Other AI-powered speech applications on display at Eureka Park included two real-time earphone translators introduced by Timekettle, a joint venture between China and Canada, and US-based Waverly Labs. Both are capable of translating multiple languages in real time.
British startup Just AI UK created a conversational platform integrating voice assistant solutions such as Google Assistant and Amazon Alexa to help enterprises accelerate time-to-market for their smart devices or chatbots. French startup SNIPS integrates the voice interface that runs on-device and offline, without user data being sent to the cloud.
Burgeoning applications of AI-powered image recognition
As opposed to the rather limited number of AI-based speech and voice applications on exhibit at Eureka Park, AI-powered image recognition has a plethora of amazing applications.
Take body recognition for example. Alyce Healthcare from Korea developed a home physical rehabilitation assistant solution that gives feedback on whether the patient is doing the exercises correctly when he or she follows rehab center's videos at home. It can also record the patient's exercise session and provide that to the rehab center for diagnosis purposes.
French startup Numii AIO presented a platform that measures and analyzes human laborers' movements and stress in real-time using AI-based image recognition technologies and then makes suggestions for improvement. The platform can relieve strain in the workplace, especially for workers in the transport and construction sectors.
Like voice recognition, gesture control offers a breakthrough alternative to traditional human machine interfaces (HMI). They are both touchless HMI technologies that enable people to communicate with machines but gesture control breaks down the language and accent barriers.
American startup Gestoos developed a gesture recognition platform that enables precise tracking and detection of any hand movement, allowing users to navigate content and services with simple hand gestures. Not only is it an alternative to voice control but it also creates better user experiences for speech and hearing impaired people, according to Gestoos.
AI-powered automotive applications are also catching public attention with many amazing innovations on exhibit at CES 2019 Eureka Park. Taiwan-based startup FaceHeart showcased a fatigue detection system that uses a dashboard camera to capture images of the driver's face and analyzes the images to detect changes in the blood flow to/from the driver's face, thereby estimating the driver's physiological signals such as heartrate and blood pressure. It can then monitor the driver's level of alertness and issue a warning in advance to prevent accidents.
Berlin-based startup German Autolabs introduced a digital assistant for drivers - Chris. It allows drivers to make calls, send text messages, or play music using voice or gesture control through Bluetooth connection with a smartphone app. Moreover, drivers can still use Chris to navigate even when the phone has no data connection.
French team CARFIT crafted a solution that collects a large amount of noise, vibration and harshness (NVH) data from vehicles using sensors and analyzes the NVH data using machine learning to gain insight into potential mechanical issues before they become a problem. In the past, NVH data could only be collected by automotive repair and maintenance service providers using professional-grade instruments. CARFIT has now made the data and analysis results available to car owners through a smartphone app, allowing them to stay on top of vehicle conditions at all times.
Smart traffic and information security applications
Smart traffic and smart city are big topics for startup teams as they need to address a major challenge in how to integrate resources across different systems in order to bring their services to reality.
Taiwan-based OmniEyes uses mobile communication and AI-based image recognition technologies to collect massive amounts of traffic images from dash cams of vehicles driving in the city. It then performs real-time analyses on the images and provides the results to traffic authorities for reference.
OmniEyes is collaborating with the Taipei City government to develop projects including detection of street-parking violations and assessment on the arrangement of garbage truck stops and schedules in an endeavor to improve the quality of life for citizens. OmniEyes looks to extend applications of its solution to AR navigation, instant street view searches and map database for self-driving cars.
Another startup also working on image recognition for smart traffic applications, Waycare from Israel, presented a cloud traffic platform that can predict traffic congestions two hours in advance and the chances of traffic accidents by taking into consideration a combination of factors including real-time traffic situations, weather conditions, people flow distribution and building usage. The system is in trial operation in several cities in the US, including Las Vegas, where CES is held.
Information security applications were also gaining visibility at CES 2019 Eureka Park. Many firms brought forth solutions leveraging AI technologies to analyze cyber security risks and thereby propose suitable countermeasures.
American startups Gryphon and Q-Branch Labs both introduced their own small network device that has a built-in machine learning model of normal network traffic flow, which can serve as the basis of comparison to detect abnormal network traffic flow. Firedome, also from the US, presented a home IoT network security platform to provide AI-powered software information security solution tailored for Home IoT device suppliers.
Unbotify from Israel makes use of biometrics technologies to trace the interactions between the user and the system and identify if the user is a real person or a software robot. Its solution can help enterprises detect intrusions into their systems and react more quickly.
In search of commercialization opportunities for AI engines
As a matter of fact, AI-powered products exhibited by startups at CES 2019 Eureka Park were mostly in the form of software development kits or integrated solutions with AI engines at the core running specific algorithms. Software development capabilities are essential to AI advancements but integration with other software applications and hardware devices are also necessary for AI to be put to practical use in specific fields and generate synergetic effects.
With AI applications in wide-ranging fields with vastly different know-hows, AI startups face challenges in how to apply AI technologies in specific fields. Accordingly, many startups market their AI technologies in the form of AI engines in the hope that they can be used in suitable fields and thereby generate more business opportunities.
The achievements that Taiwan-based startups showcased at CES 2019 Eureka Park demonstrated not only a variety of AI technologies but also their actual applications. They are an indication that Taiwan teams have transcended from developing technologies to marketing products.
(This is part of a series of articles about Eureka Park startups and innovations at CES 2019.)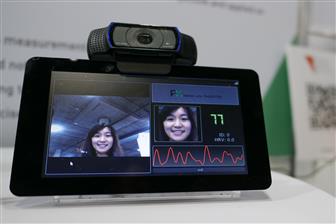 FaceHeart uses AI-powered image recognition to implement a touchless approach to detecting drivers' physiological signals such as heartrate.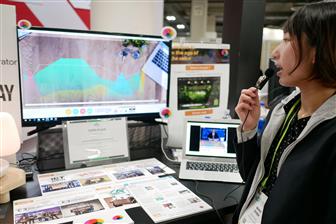 Empath detects changes in the users' to identify their emotions, which are quantifiable on a graphic interface.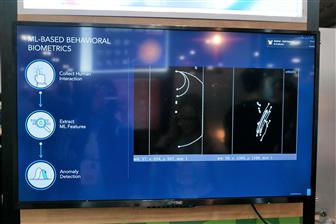 Unbotify uses machine learning to detect hacker attacks by determining whether a system is being accessed by a robot (pattern on the left) or a human being (pattern on the right).
Photos: Joyce Chen, Digitimes Research, January 2019