Winbond showcases comprehensive products for IoT and automotive electronics at Electronica 2018
Press release
The booming IoT market, such as automotive and industrial applications, has brought new opportunities to Winbond Electronics, a leading provider in the low- and medium-capacity memory market. In order to showcase its achievements of enabling system innovation through technology enhancement in recent years, Winbond will showcase a range of new products, including ultra-low-power DRAM, 1.2V NOR Flash, serial code storage Flash, secure Flash and so on, at Electronica 2018, which will be held on November 13th.
With its unique high quality, high performance and special-designed memory portfolio, Winbond will demonstrate the innovative solutions that it has built for the emerging IoT and automotive electronics market, as well as the significant benefits that it can bring to system companies.
Demonstrating innovative DRAM and Flash products
"At Electronica, we will demonstrate the innovative products that we developed from a system perspective to our existing and potential customers," said Tung-Yi Chan, president of Winbond Electronics. In order to showcase its new products, the company not only increases its exhibition space but also develops several SoC design-in demo boards, allowing customers to experience the superior performance of Winbond products. Moreover, activities such as Webinar and forum speech are held, in a bid to make the industry know better about its product portfolios.
He stressed that Winbond has transformed from relying on the commodity DRAM market to a key supplier of the specialty DRAM market. In addition, from last year, DRAM and Flash businesses have accounted for half of its revenue respectively. Winbond has now established a unique growth model of two business drivers, with own process technology and brand. It is hoped that by expanding participation in this important event, Winbond can emphasize its new market positioning and strive for greater visibility in the global market.
Although Winbond has a market share of only 1% in DRAM market, it holds an important position in the specialty DRAM market. With its high performance, high quality, stable and long-term supply capabilities, Winbond has become a trusted strategic partner of many world-class companies and is able to meet the special requirements of customers.
Besides its special market positioning, company image, and superior product development capabilities, Winbond has established its own DRAM process technology after years of efforts. Its first-generation DRAM process technology (38nm) has moved into mass production in third-quarter 2017 and the second-generation DRAM process technology (25nm) also entered mass production in fourth-quarter 2018. The company is now developing the third-generation DRAM process technology, which is scheduled to ramp up at the new fab in Kaohsiung.
At Electronica, Winbond will showcase the specialty DRAM developed by itself, with capacities up to 4Gb, to expand product line and competitiveness, as well as the ultra-low power DRAM, which is specially designed to meet the low power requirement of IoT applications.
As for Flash products, Winbond will exhibit a full range of NOR Flash, SLC NAND Flash, and Secure Flash products, highlighting its complete product portfolio.
First, when talking about NOR Flash, Tung-Yi Chan pointed out that, as a leader in NOR Flash market, Winbond has successfully driven the evolution of parallel NOR Flash to the serial interface, and now has become the world's number one serial NOR Flash provider. In addition to a full line of serial NOR Flash products, Winbond will also exhibit the innovative NOR+NAND SpiStack Flash product, which is the best system solution to meet the code and data storage requirements.
Another highlight is the newly launched 1.2V serial NOR Flash and it will be demonstrated with a SoC design-in board. By reducing the operating voltage of NOR Flash from 1.8V to 1.2V, it can meet the low power requirements of emerging IoT applications.
As for NAND, Winbond is trying to repeat the history that it created in the NOR market, upgrading the current parallel NAND Flash to the serial interface. Therefore, existing NOR customers can easily upgrade to higher capacity serial NAND, which is more cost-effective, to meet the code storage requirement of the increasingly complicated systems.
Winbond's SLC NAND Flash is different from traditional products. Through its own special process technology and design, it not only meets the high-quality standard of automotive-grade products but also has comparable speed and performance to NOR Flash.
"Our vision is to provide a full range of code storage Flash products from Mb to Gb, with low-pin-count, high-speed, and high-quality features, so customers no longer need to distinguish which architecture they use," Tung-Yi Chan said. "Moreover, compared to high-density NOR, NAND is very cost-effective. System customers will benefit from a reduction in footprint and cost. This will open up a new market and change the entire ecosystem."
On the other hand, in order to solve the security issue for IoT applications, with Winbond's comprehensive strength in code storage Flash, it has developed a series of "Secure Flash" products to meet the various requirements of system security, by adopting an innovative "secure interface" architecture and the "secure logic" functions. The products can be used for a wide range of applications, from low-end door locks to high-end ePayment and have passed the Common Criteria EAL certification. At Electronica, Winbond will demonstrate multiple end devices that are jointly developed with system customers, including IP camera & Ethernet with authentication, robot arm with security, MCU with external secure Flash, smartphone with eSIM, and so on.
A new fab is set to build for future growth
With the rise of IoT and the automotive electronics market, the demand for memory will be ubiquitous. Tung-Yi Chan said that Winbond will target at the top-notch companies in each market segment to holistically expand its business. "By providing total memory solutions, working closely with customers to help them improve their system performance is critical to us. These leading customers demand high quality, high-performance components, and we must be able to provide innovative products from the perspective of system design, in a bid to enhance our value and create business opportunities."
"From the range of products we exhibit, we can see that our solutions are well prepared to address the various requirements of security, low power, cost-effectiveness and high performance for IoT applications. This fully demonstrates our innovation capabilities of differentiating our products through customized technologies," he said. "The launch of Secure Flash products also shows that our products have been expanded to the system level, in a bid to pursue the "Smart Memory" vision."
With the emergence of new market demands, Winbond recently announced that it will establish a new 12-inch fab in Kaohsiung to expand capacity. With its strong foundation in diverse product lines, own process technology, and strategic partnerships with customers, it will strive to fulfill the rapidly increasing demands for a wide range of application. By deepening DRAM and Flash technologies to build the unique product mix and technology capabilities, it is believed that Winbond will be able to drive the innovation of next-generation IoT and automotive electronic devices, creating broader business opportunities in the future.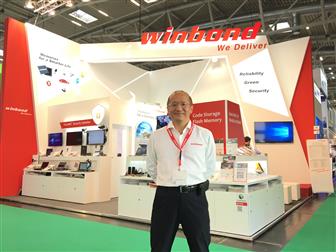 Winbond Electronics at Electronica 2018 B5-520
DIGITIMES' editorial team was not involved in the creation or production of this content. Companies looking to contribute commercial news or press releases are welcome to contact us.