Clients play key role in enhancement of Sesto IMRs, says company CEO Michael Leong
Joseph Tsai, DIGITIMES, Taipei
Following Sesto Robotics' debut at Semicon Taiwan in 2016 and return to the show in 2017, the Singapore-based automated guided vehicle (AGV) and intelligent mobile robot (IMR) developer was again at the premier event of Taiwan's semiconductor and microelectronics manufacturing industries in 2018, showcasing its new S200 with 7-axis Robot Arm IMR that is equipped with the company's newly developed features and innovations.
Sesto CEO Michael Leong noted that in addition to the developments of technologies and robot systems, Sesto has also been devoted lots of efforts to the market's operation over the past 12 months. Sesto has been working closely with its clients to implement its IMR solutions into the clients' factories and during the process the company was able to receive many feedbacks from them, helping Sesto to further refine its products.
Sesto's S200 with 7-axis Robot Arm IMR is designed for the transportation of semiconductor products especially silicon wafers and compared to the company's IMR showcased at Semicon Taiwan 2017, it features a much smaller size, but more carriage volumes for better efficiency.
As for the machine's robotic arm, since Sesto's expertise mainly lies in its automated guiding vehicle controlling (AGVC) system, the company is mainly cooperating with outside partners for the related developments and is spending most of its effort and resources in the development and improvement of the IMR's guiding system and technologies.
Sesto has already formed collaborations with several Japan- and Europe-based major robotic arm developers to make the S200 base compatible with their arms. However, Leong said that the default equipment of the S200 with 7-axis Robot Arm is by far the best setup that Sesto has come up with for the semiconductor industry after numerous testing. This is because the robotic arm from the default equipment has a loading capacity that is most suitable for semiconductor manufacturers.
Compared to competitors in the robot industry, Leong said that Sesto's advantage is its ability to provide full solutions to customers. For an automation equipment provider, only having the ability to design and craft machines is not sufficient to cope with the industry's fierce competition. The ability to provide a complete set of robotic automation solution is the key to maintain competitiveness and Sesto is not only able to do that with flexibility, the solutions that the company offers also meet demand of Industry 4.0.
To make automation equipment that can be easily integrated, chaining up different platform's hardware and software and connecting them up to coordinate with each other is essential and it is an area where Sesto has its niche.
The concept of Industry 4.0 is mainly about system of system, meaning that a company needs to have its products link with those from others to form an even bigger system chain. This is a large advancement from the concept of the Industry 3.0 era, when most of the systems are designed to be operated independently.
As for Sesto's upcoming plans or new products, Leong said that the company has been making new improvements to its products based on clients' feedbacks and will gradually release new IMRs featuring smarter guiding technologies and capability of handling more tasks.
In addition to the semiconductor, Sesto will also begin tapping into new industries in 2019 as the company has already built up many case studies and prepared various of solutions to offer to customers, said Leong, adding that he believes the experience Sesto has learned from the semiconductor industry can also be applied to other manufacturing applications.
Commenting on the robot market's status in 2018, Leong said the market is still on the rise and demand for robot products is increasing every year. This trend has to do with increasing demand from consumers worldwide for replacing their IT devices such as smartphones and wearables every year and it has already grown to a scale that requires a large manufacturing workforce to satisfy.
With younger-generation workers showing less interest to work in the traditional manual labor production line, upgrading facilities to utilize robots for production has become an alternative way for IT product manufactures to maintain their output.
As a result, the robot industry has seen rising demand for robotic devices from the manufacturing industries every year and because the trend is likely to continue, demand for robot products will only grow stronger, providing large business opportunities to players of the industry.
As for Sesto's business goal for 2018, expanding the promotions of its IMRs is one of the key directions. For the long-term, Sesto is looking to transform its IMRs to perform more intelligent tasks such as becoming busboys of a restaurant to assist human workers to carry around meals or dirty plates, and help people in daily life.
Currently, Sesto's main markets are China and Taiwan, but over the past 12 months, the company has received many inquiries from companies in Europe, Leong noted. However, Sesto will continue placing its attention on serving its clients in China and Taiwan given that a major portion of its products' demand is mainly coming from these markets.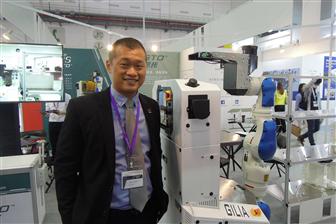 Sesto CEO Michael Leong and S200 with 7-axis Robot Arm IMR
Photo: Joseph Tsai, Digitimes, September 2018