Sesto seeking to simplify AMR adoption for clients, says Sesto CEO
Press release
Sesto Robotics, a Singapore-based autonomous mobile robot (AMR) developer, is participating at Taipei Automation Show 2019, debuting its latest autonomous robot product, Sesto Element, which is designed to be easily integrated into clients' existing infrastructures and is compatible with various payload applications.
Sesto CEO Chor-Chen Ang pointed out that Sesto Element has several deployment-friendly features that enable distributors and system integrators to readily customize the AMR into their solutions that meet their clients' demand.
Sesto's AMR solutions are fully developed in house and running with the company's self-designed operating system, said Ang adding that Sesto's AMRs come with cutting edge intelligence and tasking capability that deliver high throughput in the manufacturing environment.
The unique advantages that Sesto's AMRs feature include adaptable self-navigation technology; intelligent fleet management system that utilizes machine learning for arranging and dispatching multiple AMRs to conduct assigned tasks with high efficiency; and swappable battery management system that provides high uptime to help manufacturers meet the needs and handle the challenges of an Industry 4.0 transformation.
Given the flexibility of Sesto's AMRs which accommodates various payload applications such as robotic arms, motorized conveyors and shelving units, to meet different usage cases, the company is able to extend its reaches into new markets and industries. The company is particularly keen about forming collaborations with partners and system integrators to reach end clients in electronic manufacturing service (EMS), pharmaceutical and material supply industries.
One of the usage cases of solutions featuring Sesto's AMRs is automated tote boxes transportation system that is able to transport various semiconductor parts within a manufacturing plant. With the long distance and cross-floor traversing of heavy tote boxes, efficiency and labor safety are critical, making Sesto Element equipped with smart shelves to carry tote boxes with components inside, an ideal solution that allows operators to be able to focus more on other value-added tasks.
Another case is about transferring lab samples from a hospital's laboratory to other buildings for testing. The AMR needs to travel between floors with a rather dynamic environment and human traffic, but in a safe and efficient manner. With Sesto's machine learning system, the AMR is able to recognize the route for the transportation and avoid bumping into any of the facility staff.
In the past few years, Sesto has mainly focused on the Greater China market for its AMR products and during its visit to Taipei Automation Show 2019, the company is eyeing to form partnerships with manufacturing firms and distributors in the Taiwan market.
At the moment, Sesto is working with many semiconductor firms worldwide, satisfying their various material and component handling process demand over trolleys, cartons and FOUP handling systems.
Commenting on the development of the automation market, Ang said that the market is undergoing changes driven by manufacturers' adoption of the Industry 4.0 concept where machines and equipment are augmented with wireless connectivity and sensors and are exchanging data with backend ERP systems as well as AMRs such as one from Sesto in an integrated factory.
These smart factories provide real-time data for factory management to make adjustments that enhance work processes and efficiency. Sesto Robotics having been developing AI systems for many years is excited to be able to assist its customers to advance into the next phase of the smart automated manufacturing with its intelligent AMR solutions.
For clients that have not yet experienced automation, Ang is confident about Sesto's innovative AMR solutions to provide them with simpler, safer and smarter process workflow. In fact, the company's AMRs have helped customers to conduct repetitive and injury prone transportation works, to reduce the dependency on the manual labor. The solutions can also trace the processes of a product's manufacturing as well as increase clients' productivity, Ang added.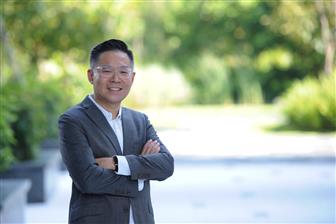 Sesto CEO Ang Chor-Chen says that Sesto Element has several deployment-friendly features that enable distributors and system integrators to readily customize the AMR to meet clients' demand
DIGITIMES' editorial team was not involved in the creation or production of this content. Companies looking to contribute commercial news or press releases are welcome to contact us.