Taoyuan City has been selected by Intelligent Community Forum as one of the global top-7 smart cities for two consecutive times. Cheng Wen-tsan, mayor of the northern Taiwanese city, pointed out during a recent interview by Digitimes that the core mission for a smart city is to solve problems by virtue of innovative technologies to hike efficiency and quality.
Taoyuan began to promote its smart city project in 2015 and particularly focused on smart solutions and services for daily life, transportation and tourism in line with the Asia Silicon Valley Development Plan implemented by the National Development Council, Cheng said. Smart city solutions and services are human-centric, using IoT (Internet of Things), big data and AI (artificial intelligence) technologies to collect, analyze and integrate data, Cheng noted.
Master plans and innovative thinking
While there are many systems and software solutions for promoting smart cities in Taiwan, smart city projects' effects on a city's competitiveness and the improvements to citizens' daily lives cannot be easily assessed because there are no readily available benchmarks, Cheng explained. Therefore, every city should have a master plan as guidance for city employees, giving them clear ideas about smart city, Cheng indicated.
The city's Department of Information Technology is mainly responsible for promoting the smart city program. As of May 2018, the department had provided 1,443 items of data collected by the city government, including traffic, residential, vehicle thefts, flood water levels, parking facilities and air pollution attributable to factories, for open use. Since such data originally differed in format, the department has introduced OpenAPI Specification to shorten time taken by internal system developers to use such data. The city government aims to make every in-house-developed system avialable to the public.
Citizen Cards are an example of smart city solutions, Cheng said. The card features multiple functions including personal identification, transportation tickets, electronic wallets, entrance control and access to various daily-life services. For mobile electronic payment, the card supports Apply Pay, Google Pay and Samsung Pay currently.
Since it was launched in September 2015, the city government has issued over 1.1 million Citizen Cards, nearly half of the city's population, Cheng said.
Industrial parks are under close environmental monitoring
There are six large industrial parks in the city and the city government has deployed sensors to monitor hot spots of pollution and use big data analysis to identify pollution sources.
In response to frequent complaints about air pollution, the city government has cooperated with the Environment Control and Hazard Mitigation Technology Center under Chung Yuan Christian University to develop drones equipped with air pollution detectors for real-time monitoring of air quality at the Guanyin Industrial Park as a pilot project.
Such drones undertake real-time detection of air pollutants including carbon monoxide, nitric oxide, sulfur dioxide, volatile organic compounds, PM1, PM2.5 and PM10 every two seconds at varying altitudes and turn out a set of data every 30 seconds, with data transferred to ground monitoring computers via wireless communication for analysis of hot spots of air pollution. The city government plans to match detected abnormal signals with data collected by nearby weather stations and air quality sensors to trace pollution routes and the sources.
Smart management of infrastructure
Cheng said smart disaster prevention is also important. In precaution against flooding, the city government has deployed 61 flood water level monitoring stations and 28 rainfall stations since 2015, and has integrated measurements with flooding data collected by other agencies and developed a flooding information system.
The city government has converted many sewer maps into a GIS-based digital database and set up sensors at sewers for cloud computing-based monitoring. So far, map data on more than 15,000 sections and manholes of sewers have been digitized.
There are six water resource recycling centers (wastewater treatment plants) in operation in the city, with each equipped with testing instruments and cameras for transferring real-time data on water quality to the monitoring center and monitoring staff's smartphones.
The city government has installed 160 smart LED streetlamps for demonstration and will another 450. Smart streetlamps include a lighting control system, data displays, an AI-based image search and recognition system, GPS tracking based on smart wearables, and free Wi-Fi services.
Over 200 of the top-500 Taiwan-based enterprises are stationed in the city. There are about 11,000 factories and over 2,000 logistics service operators in Taoyuan. With the Taoyuan International Airport, and the proximity to the Taipei metropolitan area and Hsinchu Science Park, the city has the advantages to develop smart city solutions, Cheng indicated.
For Taiwan's New Southbound Policy, the focus is not about moving factories to or selling products in Southeast and South Asian countries, but about establishing platforms for economic cooperation, Cheng explained.
The city government will, in line with Taiwan's Asia Silicon Valley Development Plan, introduce more software-based smart solutions, boost Industry 4.0 and upgrade industries' business operation, Cheng indicated.
In addition, the city government has been keen on promoting startup businesses: there is a project focusing on communication software via cooperation with the National Development Council; and another on Internet of Vehicles (IoV) and testing autonomous driving, Cheng noted.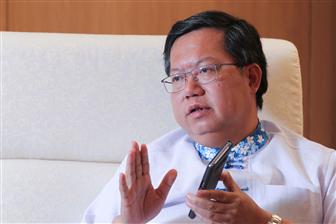 Taoyaun mayor Cheng Wen-tsan
Photo: Shihmin Fu, Digitimes, August 2018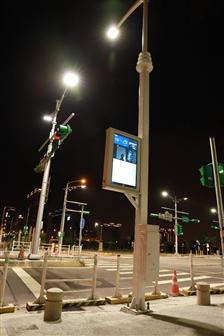 A smart LED streetlamp with mulitiple applications in Taoyuan
Photo: Taoyuan City Government