Co-founder of Acorn Campus Ventures Bob Lin started six businesses, three of which succeeded and the others failed. In addition to being an angel investor, Lin is also the author of top-selling books. Lin has been through it all, from making a fortune to losing every penny. He put his thoughts and wisdom gained from four decades of experiences in his books in hopes of helping more people. Lin declined the title of a venture capital guru in modesty, stating that he continues to make investments and keeps writing about the industry he observes closely.
Lin is also the founder of Multidimensional Angel Group and co-founder of Healthilink China.
Finding a direction for Taiwan
As he often gives advice to Taiwan's National Science Council and Miinistry of Science and Technology in regard to the country's innovative startup development, Lin suggests three major directions for Taiwan to develop its own unique startup scene.
Stand on the shoulders of giants and make continuing improvements
In the past decade, many Taiwan startups have been focusing on developing peripheral products for the semiconductor and display panel industries, for example, improving clean rooms, masks or production equipment. With the growth of industry giants, many medium businesses got to go public. Such a development model can still carry on but it should be noted that many industry giants have reached maturity and their growth is slowing down, which has resulted in a decreasing number of startups in related fields.
Duplicate US and European startup scenes in Taiwan
Similar to China, many Taiwan startups try to copy how US and European firms operate. For instance, after America's largest online restaurant reservation service company OpenTable was launched, quite a few similar services began to emerge in Taiwan. It is not a big problem to duplicate other people's success model in China because of its massive market size. However, for a Taiwan startup, even if it makes No. 1, future growth may be limited. Talent, technology, capital and market are the four elements to startup success. Lin thinks for Taiwan startups to survive, they have to make major breakthroughs with respect to the four elements. It's not a problem to copy other people's success model. However, startups must have a close understanding of market needs to be able to thrive.
Leverage Taiwan's unique advantages to develop new business or expand existing business
Taiwan has abundant natural resources and has made great achievements in agriculture, fishery and aquaculture. Some sectors have even made themselves well known around the world with no help from the government, such as pineapple pastry. Other sectors with differentiating features include cultural and creative industries, tourism, healthcare and biotechnology. Among them, developments with respect to healthcare can include food safety further to pharmaceutical and medical equipment segments.
Lin is prepared to invest in a Taiwan startup team which combines a special local delicacy with another Taiwan strength - automated production equipment made with precision machinery technology. Such a venture has the potential to change consumer habits and therefore is a real innovation.
Investing in four major sectors
Having successfully fostered 30 startups, Lin still gets in touch with about a dozen startup teams and invests in three or four of them every year. He mainly invests in four major sectors.
Healthcare sector
Optimistic about the healthcare sector over 10 years ago, Lin funded Winning Health Technology Group, China's largest hospital management software provider, in 2006 and has enjoyed the company's rising share price ever since. He also started Healthlink Services with a Chinese team in 2008, providing emergency medical services and DNA testing. Healthlink Services serves as a third-party platform matching patients, insurance companies and hospitals. It provides members emergency medical transport and emergency medical instructions over the phone. Healthlink currently has 30 million registered members in China. All their medical information from the time they enter a hospital to the time they are discharged is put on record, which also serves as the basis for Healthlink to further pitch its health examination services including genetic analysis. There is also E-call service directed at medical assistance for car accidents. Furthermore, Lin has also recently made investment in gene therapy, which is a hot and trendy topic nowadays.
Automotive industry
Lin had a stake in electric vehicle battery supplier Farasis 10 years ago and has served on the board of directors for eight years. Co-founded by American and Chinese entrepreneurs, Farasis holds very specialized technologies. Its automotive battery shipments ranked No. 1 for six months out of the past 12. It has also received funding from China's largest automaker. Jingchi, a Chinese autonomous driving startup, is another company Lin has poured capital in. Jingchi was established by a former Baidu employee in charge of Baidu's autonomous driving research.
Data-related business
Four years ago, Lin provided capital to Paxata, specializing in big data analytics tools. In the business world, raw data has to undergo a complex compilation and redundancy deletion process before enterprises can do any analysis. In view of this, Paxata provides tools for business analysts to quickly turn raw data into useful information and begin model building. Paxata has also received investments from Microsoft, Intel and Cisco. Another startup Lin has invested in is R2.ai, which helps enterprises create data models using artificial intelligence (AI). Data scientists often spend a large amount of time trying different data models in order to find the best one. With R2.ai's tool, it only takes half a day to find the best model, significantly improving data modeling efficiency.
Fintech
Lin began investing in Fintech years ago, for example, in BaseVenture, headquartered in San Francisco. BaseVenture mainly helps fund administrators and fund managers in the alternative investment industry simply and automate how private funds are managed. It provides a platform for administrators, managers, clients and investors to work together and securely exchange documents.
Often invited to deliver speeches or provide consultation, Lin put emphasis on the four elements to corporate success - talent, technology, capital and market, wherein market and talent matter the most. Lin drew an analogy between operating a business and building a house. Before you build a house, you have to find a good piece of land, which is like the market to a business. The market has to be large and rapidly growing. A company will not succeed in a market with problems. Talent is like the foundation of a house. With a good startup team, even if you select a wrong topic, you can always make adjustments and still have a shot at success. On the other hand, if you work with wrong talent or your team cannot work together, after your startup burns through all the cash, the game is over.
When you have all four elements, you will have differentiation. There must be at least one element that makes you stand out from the competition. That is, you have to build up an entry barrier. For example, have your intellectual property protected or else it will soon be copied or stolen. There are many ways to start your own business. Opening a breakfast place or restaurant so that you are your own boss is one choice. However, engaging in an innovative startup that can fundamentally change the way people live will positively impact the world.
(Editor's note: This is part of a series of interviews focusing on the problems and opportunities that Taiwan-based startups face. The interviewees are venture capitalists and angel investors from Silicon Valley and Taiwan.)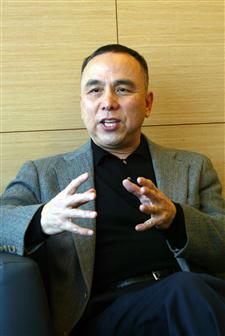 Bob Lin, co-founder of Acorn Campus
Photo: Bob Lin