Edge AI solutions provider Kneron aspires to become innovation leader
Vega Chiu, Taipei; Willis Ke, DIGITIMES
Taiwan's edge AI solutions provider Kneron has recently completed its series A1 financing of US$18 million led by Horizons Ventures, a venture capital firm founded by Hong Kong tycoon Li Ka-shing, making it the first Taiwan semiconductor firm to have ever received investment from the business magnate.
Kneron founder and CEO Albert Liu said that his company is confident of becoming the next company to lead the industry in innovation.
He stressed that Kneron's vision is to apply AI technologies to improve human life, which complies with Horizons Ventures' goals of bettering people's daily life by investing in many disruptive companies including Skype, Facebook, Siri and DeepMind. Over the past 10 years, the venture capital firm has invested in over 80 tech startups, mostly in the US and Israel.
Liu said that with this new round of funding, Kneron will accelerate its product development and collaboration with strategic partners to carry out vertical industrial applications, focusing on smart home, smart surveillance and smartphones. He added that a breakthrough 3D AI solution will be launched in the second half of 2018.
Liu indicated that Kneron, founded in 2015, provides edge AI solutions, including AI processor NPU (neural processing unit) and visual recognition software, to help customers develop products more quickly. He furthered that the AI NPU provides high computing performance with low power consumption.
Liu stressed that Kneron offers innovative edge AI solutions by moving part of the AI computing power from the cloud to edge devices to perform real-time AI recognition, inference and analysis without connecting to the cloud, so as to better safeguard the confidentiality of related data for users.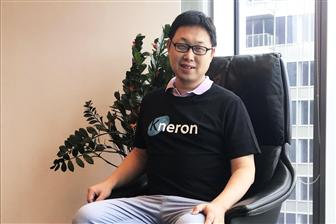 Kneron CEO Albert Liu
Photo: Vega Chiu, Digitimes, June 2018