Five eye-catching edge computing implementations showcased at Computex 2018
Sponsored content
Computex 2018, as a benchmark for global B2B professional technology exhibition, highlights six themes - artificial intelligence (AI), 5G communication, blockchain, Internet of Things (IoT), innovations & startups and gaming & VR. Taiwan External Trade Development Council (TAITRA) expects advances of the six major technologies will introduce innovative applications and infuse new energy into Taiwan's economy.
A glimpse at the exhibits at this year's event - which started on June 5 - shows that AI has become an industry-wide focus of new product R&D. Centralized computation architectures can hardly cope with the requirements by growingly diverse AI applications. As such, equipping end devices with sufficient edge computing capabilities is now an important market trend. A wide variety of edge computing implementations are being showcased at Computex 2018, with self-driving cars, drones, robots, VR/AR/MR devices, surveillance cameras particularly grabbing visitors's attention.
Visitors entering TWTC Exhibition Hall 1 will not miss the large-size drone put on display by Industrial Technology Research Institute (ITRI) at Computex. With a wheelbase of 3.75m, ITRI's unique hybrid power drone features a flight duration of 45 minutes when carrying a 30kg payload. Compared to pure battery-powered flying vehicles, ITRI's drone stays in the air longer. According to ITRI, running on both batteries and internal combustion engines, the drone is easy to maneuver and flies long distance thanks to the combined benefits of the high sensitivity of batteries and the high power output of gasoline.
The high-payload and high-duration drone can be used for long-range missions, such as dropping off supplies to disaster areas, inspecting bridges and cleaning power lines. ITRI emphasizes that using the drone to clean power lines is a perfect example demonstrating its tremendous value. Contaminants on the insulators of an electrical power line can cause an electrical fault and must be periodically cleaned and maintained. ITRI's drone can help a power company carry out such a task. In the case of Taiwan, this can increase the total power output by 1%-2%.
Aside from drones, self-driving cars are also a highlight of edge computing applications. Elitegroup Computer Systems (ESC) is showcasing a 10.1-inch 2DIM in-vehicle computer with a 3-second boot time as required by automakers. With self-driving cars now a confirmed trend, an advanced driver assistance system (ADAS) that processes data sent back from a range of sensors in real time is essential. In view of this, ESC builds its automotive system with dual ARM processors°–Cortex M and Cortex A7, operating system software as well as WLAN and Bluetooth communication. ESC is supplying the product to automakers in Taiwan and China.
ESC also has a mini remote-control self-driving car integrated with the company's ADAS on display at Computex. The ESC ADAS enables blind spot visibility and 360-degree surround view. It can be applied to trucks longer than 20 feet and resolves the blind spot problem for large vehicles with its camera and image processing capability, thereby enhancing road safety.
The service robot moving around at TWTC Exhibition Hall 1 is the smart robot AYUDA developed by SYSCOM Group, a leading system integrator based in Taiwan. AYUDA is also the first police robot that the New Taipei City Police Department is deploying in remote mountain areas to provide local citizens with police administration messages. AYUDA is also being used to provide services at banks and hospitals.
According to SYSCOM Group, AYUDA has a built-in indoor positioning system and therefore can navigate an indoor area using its internal database. It also has face and voice recognition capabilities, allowing it to analyze a visitor's speech and give an appropriate response. To avoid delay in response resulting from back-and-forth communication via network connection, AYUDA on display at Computex operates offline, interacting with visitors using its built-in processor and database. In addition, AYUDA allows a high level of customization to accommodate wide-ranging customer needs in robot appearance, communication protocols and cloud connections.
Virtual reality (VR) has inspired worldwide users with never-before-experienced visual enjoyments. However, those who have used VR glasses feel limited and inconvenienced by the VR glass cable. In response, Silicon Line introduces VR Optical Links featuring high-speed data transfer, high-resolution display, lightweight form factor, ultra-flexibility and long-range transmission to enhance VR user experiences.
Using optical cables, VR Optical Links enable data transfer speeds far surpassing those of traditional copper cables. The advantage of high-speed data transfer is that the transmission range can be up to 10m and it allows the transmission of high-resolution images so the VR effects are more refined and lifelike. Furthermore, as optical cables are 70% lighter than copper cables, VR glass users will feel much less incumbered.
With respect to image processing, security surveillance has become an important AI application in recent years. VIVOTEK's 360-degree panomorph fisheye camera FE9391-EV with built-in deep learning algorithms can easily detect and identify people and objects in an area and accurately calculate the number of people and the length of time they stay in the area.
VIVOTEK's FE9391-EV is equipped with edge computing capability that allows it to perform front-end image processing and then send the results to the back-end, thereby offloading some work from the cloud platform. This way, the front-end device can respond more quickly. According to VIVOTEK, the product can be put to use in diverse scenarios. For example, the police can use it for security surveillance in public areas. Retailers can use it to check how long consumers stay in front of a particular shelf and figure out a hot spot to display their merchandise. They can also use it to monitor how long a line is at a checkout lane. When it exceeds a predetermined limit, the system can automatically alert other cashiers to support so retailers will be able to enhance service quality.
Edge computing is rising to become an important trend in recent years. End devices with capabilities to perform real time computation and make smart responses will soon be everywhere in our lives. At Computex 2018, there are multiple products putting edge computing to practical use and they will continue to boom as the industry infuses more technological advances and creativity into their developments.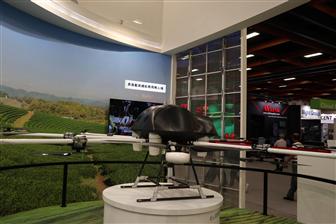 ITRI's large-size drone can be applied for long-range missions such as dropping off supplies to disaster areas and inspecting bridges
DIGITIMES' editorial team was not involved in the creation or production of this content. Companies looking to contribute commercial news or press releases are welcome to contact us.