Chrontel and MSI IPC partner to provide HDMI 4K2K display for WindBOX embedded system MS-9A95
Press release
Underscoring its commitment to the personal computer and industrial embedded systems markets, Chrontel, a leading provider of video interface technologies, today announced that, together with development partner MSI IPC, a leading provider of high-quality embedded boards and systems, will provide HDMI display up to 4K2K resolution for video output to MSI IPC's new WindBOX IV Advanced, MS-9A95 product.
This new MSI IPC system incorporates powerful Intel HD 620 graphic processors. The high definition video experience offered by MSI IPC/ Chrontel will deliver breathtaking viewing with immersive images for users in a wide range of Industrial PC Market applications such as energy and automotive.
The MSI IPC WindBOX series of embedded computers are slim and compact, yet provide powerful solutions for reliable operation within industrial applications. MSI IPC released the WindBOX IV Advanced, MS-9A95, to enhance the completeness of the WindBOX series embedded system.
Aiming at display-demanding applications within limited installation space, the WindBOX IV Advanced MS-9A95 is a true slim and compact fanless system based on the 7th Generation Intel Kabylake ULT Core i5 processor. The MS-9A95 utilizes the latest Intel technology that supports 3 independent displays (2 x HDMI & 1 x DVI-I) and Intel HD Graphics 620, together with excellent processing and graphic capabilities. For users' easy maintenance, MS-9A95's bottom cover features a convenient removable design for fast and easy access to the system's 2.5-inch HDD/SSD, 32GB DDR4 memory, and 2 x mini-PCIe & 1 x M.2 for WIFI/3G/Storage. The brilliant processing power, 3 independent displays, dual Intel GbE LAN, the rich I/O, and the industrial DC-in 19V/65W power make WindBOX IV Advanced MS-9A95 a great solution for 4K2K digital signage, kiosk, security, and many more applications.
To support 4K2K, 60Hz HDMI display, the MSI IPC WindBOX adopted Chrontel's mixed signal CH7211 IC which is designed to convert the DisplayPort signal from the highly integrated processors into a HDMI video format for external displays and digital televisions. "This is another MSI IPC solution that provides fast time to market and design flexibility for consumer electronics applications," said a product manager at MSI IPC. "Adding the 4K2K HDMI solution allows our customers to experience a wide range of exciting Ultra HD content in the digital media world."
In addition to incorporating display conversion logic that delivers stunning video output to the PC computing industry and the MSI IPC WindBox, Chrontel's CH7211 IC supports multicolor format options including RGB to YCC conversion and YCC 4:4:4/4:2:2 to YCC 4:2:0. High dynamic range (HDR) technology that enriches video quality for HDMI deep color media content playback is also implemented in the CH7211 IC's HDMI and DisplayPort blocks. To take advantage of 3D HDMI-enabled display devices, the CH7211 IC includes HDMI 3D protocol to enhance the user visual experience when playing 3D games or running 3D video applications. The HDMI 2.0 specification requires HDCP 2.2 to be enabled when streaming 4K2K video content. The CH7211 IC is designed with HDCP Copy Protection 2.2 technology to prevent illegal copying of Ultra HD video; the CH7211 IC will automatically fall back into HDCP 1.4 for backward compatibility with HDMI 1.4b display. Most major TV manufactures support the Consumer Electronics Control (CEC) that allows users to control HDMI devices that are connected through HDMI by using one of their remote controls. For sending and receiving the CEC commands, the CH7211 IC incorporates a CEC engine to communicate the attached upstream HDMI sink and the downstream DisplayPort source that supports CEC tunneling, which is defined in the latest DisplayPort 1.4 specification and supports the HDMI CEC protocol. Furthermore the CH7211 IC supports both the DisplayPort and the Embedded DisplayPort (eDP) standards with transmission bit rates of up to 5.4Gbps and can be configured running 1, 2 or 4 lanes through the DisplayPort Link Training mechanism. When normal eDP signals do not contain audio packets, the CH7211 IC can accept S/PDIF or I2S digital audio into its audio codec and re-embed them into a HDMI signal that can be played back by the HDMI sink.
Equipped with premium DisplayPort video input, the CH7211 IC also supports the USB-C specification, a newly emerging USB standard that introduces slim and sleek connector designs and provides revolutionary technology for fast charging and data transferring within the newest PCs, phones, tablets and other industrial segments like automotive. DisplayPort and USB-C have increasingly become more inseparable as more PC and mobile phone manufactures adopt the DisplayPort Alt-mode, a standard that enables the DisplayPort signal through USB-C connectors for displays.
The USB-C offers great connectivity features for thin and small form factor computing platforms. To comply with the USB-C state-of-the-art technology, the CH7211 IC's USB-C engine is equipped USB Power Delivery protocol capable of sourcing/sinking scalar power up to 20V through the USB Vbus line. The CH7211 IC's built-in USB-C plug detection method uses the CC' pins to detect an inserted USB-C cable's orientation in order to determine the correct USB Superspeed data signal paired functional connection within the cable. Furthermore the CH7211 IC can be easily configured to support USB-C Alt-mode. This USB-C extension mechanism allows auxiliary non-USB data such as DisplayPort sharing similar electrical characteristics with USB 3.1/3.2 to be transmitted through the USB-C cable.
The CH7211 IC's Power Delivery (PD) technology has been certified by USB-IF and the CH7211 IC is listed on the USB-IF Integrators List, a list published by USB-IF certified that products are in compliance with USB-IF standards. Also the CH7211 IC's HDMI transmitter and DisplayPort receiver have been tested at a certified VESA and HDMI Testing Lab and are certified to be in compliance with all the applicable Test Standards. The CH7211 IC is one of latest products to join Chrontel's popular DisplayPort product line, which offers a wide range of similar devices at various display resolutions. Other newly released Chrontel DisplayPort converter ICs with USB-C capable functionality include CH7212 (VGA), CH7213 (DisplayPort) and CH7215 (YPbPr and CVBS).
MSI IPC will be demonstrating its WindBOX IV Advanced, MS-9A95 systems at Booth K108 at the Taipei Nangang Exhibition Hall Level 1 during Computex 2018. Chrontel will also staff exhibition showcases at the following locations:
1. Inside the USB Community booth at the Taipei Nangang Exhibition Hall 4th Floor
2. Inside the Intel Capital Showcase at Room 105, TICC (Taipei International Convention Center) 1st Floor
About MSI Industrial Platform Solution (IPC Business Unit within MSI group)
With more than 30 years' of experience in motherboard design & manufacturing, MSI ranks among the world's top 3 motherboard manufacturers recognized internationally for high quality and stability by clients and individual users.
In 2006, MSI entered the embedded and industrial market and started providing reliable and expandable products with longevity support of 5 to 7 Years. MSI designs and manufactures high-quality embedded boards and systems for various applications, such as digital signage, medical electronics, ATM, POS, kiosk, industrial automation, gaming, utility, and transportation. With solid R&D and manufacturing capability, MSI serves its client with efficient DMS (design, manufacturing & service) solution, and is poised to become the best partner for worldwide partner in the embedded and industrial market. More information on MSI's industrial PC division can be found at: http://ipc.msi.com/
About Chrontel, Inc.
Founded in 1986, privately held Chrontel is a leading supplier of video interface ICs and technologies to computer manufacturers worldwide. The company's innovations include the world's first VGA-to-TV encoder. Chrontel video display chips are incorporated into reference designs offered by many microprocessor and graphics processor companies. Chrontel offers the industry's most complete product line of video interface and USB-C ICs for notebook, desktop computers, automotive and other display accessory products such as display converter dongles, docking stations and monitors. Chrontel products can be found within the PCs, tablets and display accessories sold by many of the world leading manufacturers. Additional information about Chrontel can be found on its website: http://www.chrontel.com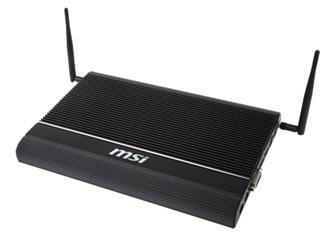 MSI IPC WindBOX
DIGITIMES' editorial team was not involved in the creation or production of this content. Companies looking to contribute commercial news or press releases are welcome to contact us.