AMD new embedded processors widen smart applications and explore advanced user experience
Sponsored content
The booming GPU market, propelled by new implementations ranging from deep learning, virtual currency mining, computer vision and versatile smart manufacturing applications, is boosting the market values of chipmakers. In 2018, this momentum will continue for GPU and CPU vendors with growing demands for edge computing and upcoming fifth generation communication (5G) solutions, which involves participating in distributed cloud networks and requires more processing power and data IO bandwidth.
Key vendors such as Advanced Micro Devices (AMD) have benefitted from the increased demand for these solutions. Observers noted that AMD gains in the market are significant and return to competitive footing in x86 processor solutions since the company's multiple successful launches of its 'Zen' architecture CPUs and 'Vega' cored GPUs in the second half of 2017. From the desktop to notebooks and data center servers, AMD processors offer compelling alternatives versus key competitors and have received a resoundingly positive market reception for successful introduction to big datacenter customers.
In February 2018, AMD announced the EPYC Embedded 3000 and Ryzen Embedded V1000 series processors based on the "Zen" core and tailored to the growing embedded system market. The new families of processors are designed for core networking and storage applications to edge computing usage models in a wide variety of markets such as military and aerospace, casino and gaming, retail, healthcare and industrial solutions and applications. With this announcement, AMD is bringing the "Zen" architecture to many more applications beyond just PCs and Servers. Especially the rapid developments in hardware, software, and communication technologies that allow emergence of Internet of Things (IoT) devices can manage things and make life much easier for human beings.
Machine learning for IoT data analysis boosting technological evolution
In his keynote speech during the Embedded Technology Forum hosted by Digitimes, Steve Longoria, Corporate Vice President Sales, Datacenter and Embedded Solutions Business Group, AMD, explained IoT as billions of connections through LTE and 5G. The real meaning of IoT is enabling smart applications through machine learning algorithms that encompass every aspect of our lives, Longoria added.
Intelligent processing and analysis of massive amounts of data is the key to developing smart IoT applications. Modern examples range from the car-sharing economy, high speed rail systems, airport visual security systems and aviation safety technologies. As more and more data has been collected by the internet, remote sensing networks, mobile devices and the Internet of Things, these varieties of applications require massive IO connectivity and bandwidth to analyze tens of terabytes in size in airport hubs or train stations. Data analytics and relevant technologies make up a 20 billion dollar opportunity, and AMD is proactively embracing the data-rich era with the launch of its new embedded processors.
The highly scalable AMD embedded processor families deliver powerful performance, space savings and energy efficiency in edge computing systems. As edge infrastructure is distributed across wide regions, spanning gateway devices and cloud providers, it is very important to provide cybersecurity features to help protect data at the hardware level with an on-chip secure processor. Notable features of AMD product offerings are more advanced security features with Secure Memory Encryption, Secure Encrypted Virtualization, and Secure Boot technologies on system. And the most significant value, the application software could benefit from these features without changing source code.
Ecosystem partners boost market shares with near-term product deployments
Versatile smart solutions and use cases are driving success for AMD's new embedded processors, said Stephen Turnbull, Director, Product Marketing, Datacenter and Embedded Solutions Business Group, AMD. In examining 2018 market trends, he finds smart healthcare and smart manufacturing as two major areas expected to maintain strong growth.
For example, AMD Ryzen Embedded V1000 customer Esaote, based in Italy, announced the MyLab 9 eXP ultrasound system for medical imaging, women's healthcare and cardiovascular diagnostics. The AMD processors use an artificial intelligence algorithm to execute sophisticated Noise Cancellation features. With these unique visualization tools, Esaote can display ultrasound image results with clarity and sensitivity to help doctors make more informed clinical decisions. Furthermore, the small footprint and low power consumption of Esaote's medical system enables medical organizations and healthcare centers to increase productivity and explore more portable medical system options.
With more than 20 years providing processors for the embedded market, AMD has a strong presence in digital signage, thin client, casino and arcade gaming, networking, smart healthcare and smart manufacturing markets. Several Taiwan ecosystem partners are deploying 23 various AMD Ryzen Embedded V1000 and AMD EPYC Embedded 3000 solutions. With near-term product deployments and highly integrated solutions, AMD is ushering in a new age for embedded processors and looking to increase market share and business opportunities.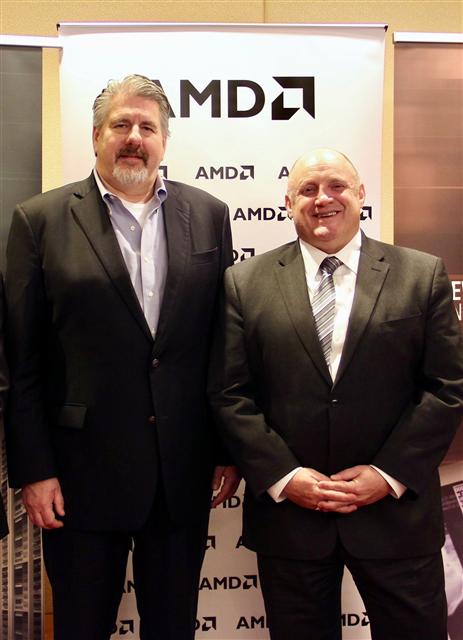 Steve Longoria (left), CVP Sales, and Stephen Turnbull (right), Director of Product Marketing, AMD Datacenter and Embedded Solutions Business Group
DIGITIMES' editorial team was not involved in the creation or production of this content. Companies looking to contribute commercial news or press releases are welcome to contact us.