High-speed transmission chipmakers land stable orders from first-tier clients
Cage Chao, Taipei; Willis Ke, DIGITIMES
Wednesday 14 March 2018
With the growing demand for high-speed data transmission interface solutions including PCIe, Type C, DP, and SerDes fueled by rampant AI, cloud service, big data and IoT applications, Taiwan makers of chipsets to support the solutions including Parade Technologies, ASMedia Technololgy and Aspeed Technology are optimistic about their revenue and profit performances for 2018, as they have secured stable orders from first-tier server customers, according to industry sources said.
The sources said that global server makers are pursuing cloud servers boasting faster and safer data transmission and management to meet client requirements, showing substantial demand for not only high-performance CPU and GPUs, but also high-speed transmission chipset solutions. This has allowed major Taiwan makers of transmission chips to enjoy increasingly high order visibility and global market shares.
Among them, Parade, which mainly supplies IC products to serve the demand for HDMI, DP (Display/Port), SATA and USB for display, storage and interface applications, has tapped into the supply chains of major server makers in Taiwan and China with its high-speed transmission chipset solutions in the second half of 2017. This has served to significantly push up its profit performance, with EPS hitting a record high of NT$25.49 (US$0.87) in 2017.
Also maintaining Intel and Apple among its customers, Parade is expected to see its global market share for high-speed transmission chips pick up fast, as Intel's latest Purley server platform demands numerous extra chips to maintain its system performance, and Apple's upcoming variants of iPad and MacBook are also expected to need the support of similar chips.
With its powerful IP and chip design capabilities already recognized by Intel and AMD, ASMedia has secured stable orders for high-speed transmission chips to support the new-generation CPU platforms to be rolled out by both heavyweight customers in the first half of 2018. This will power the company's revenue and profit performances for the year.
As to Aspeed, it has long ventured into the global market of server chipset solutions and is also optimistic about revenue and profit prospects for 2018, as no slow seasons are seen in the server market throughout the year.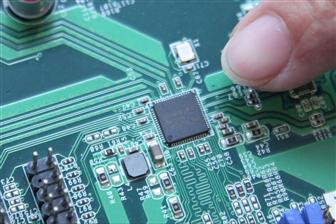 High-speed transmission chips see growing demand
Photo: Shihmin Fu, Digitimes, March 2018